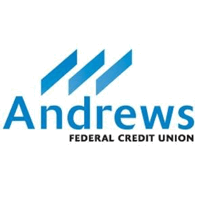 Updated 1/23/17. It appears that Andrews FCU has quietly added back this 7-year 3% APY CD on their share certificate rates page. I don't know how long this will last. Thanks to FI35 for the tip. Please see my Andrews Federal Credit Union Application and Account Opening Review for more details on the opening process. As I have an active account with Andrews FCU, I verified it as an option today (1/23/17) to open directly online. (Click to enlarge.)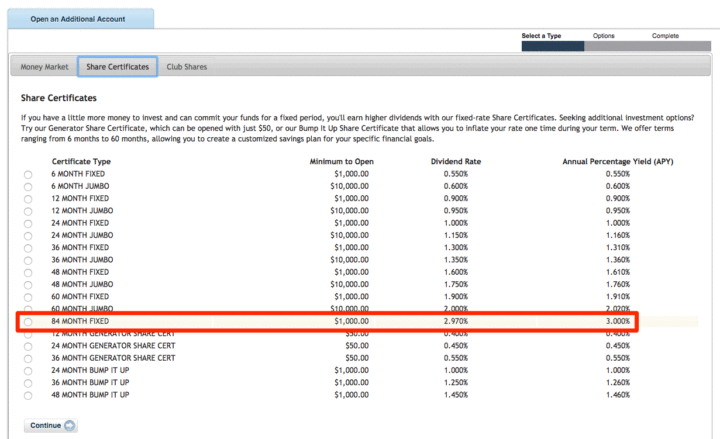 Original post:
Let's take a closer look at this 84-month Share Certificate at 3.01% APY. The early withdrawal penalty is a rather modest 180-days of interest. The minimum opening deposit is $1,000. No maximum balance cap. I created a spreadsheet to calculate the effective interest rate if you withdraw early, and here are the results visually: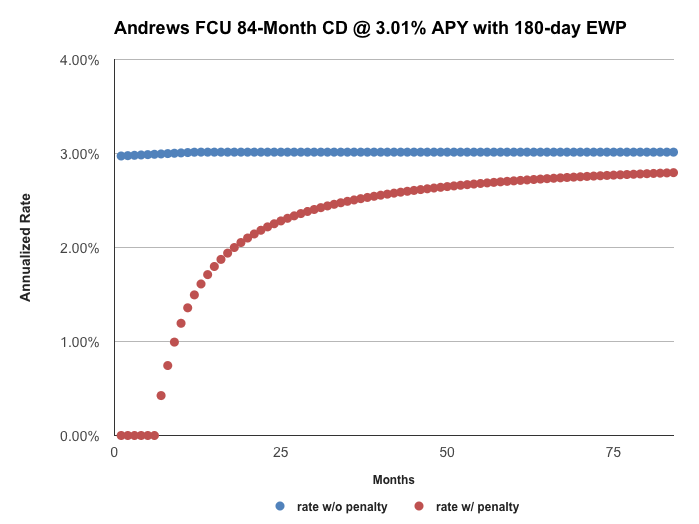 If you withdraw after one year, you've still earned 1.50% APY after paying the penalty. After 2 years, you'll have earned 2.25% APY. After 3 years, you'll have earned 2.51% APY. At all these intervals, you are ahead of nearly all the top rates from other banks and credit unions.
If you don't qualify directly, anyone can join the credit union by first joining the American Consumer Council for $8. Try the promo code consumer and you should be able to save that five bucks. After that, join AFCU online, and deposit the minimum $5 to open a share account. After your share account is open, you can try to open the promotional CDs online. Alternatively, you may need to call them up directly and expedite things.
Please see my Andrews Federal Credit Union Application and Account Opening Review for more details.
I am striking out the refer-a-friend bonus text below because I no longer see it advertised on their site. This way I can keep the details in case they bring it back.
$50 Refer a Friend Bonus. As part of the holiday promotion, new members can also get a $50 cash bonus if referred by an existing member. The referrer also gets $50. However, the referred person must open a checking account and set up direct deposit of $500 or more. Here are the exact terms:
Refer a friend offer available to existing Andrews Federal members who refer a new member to the credit union. New member must open a new Free or Advantage Checking account with a direct deposit of $500 or more. Direct deposit must be initiated within 30 days of opening new Free or Advantage checking account, and must be received for at least two consecutive monthly statement cycles for both members to be eligible for reward. Account must remain open and in good standing for at least 90 days; accounts closed prior to 90 days will be ineligible. $50.00 will be credited to the referring member's and the new member's credit union accounts within 4 weeks after the 90- day period has ended. New member must qualify for credit union membership, which includes the opening of a Base Share Savings account with a minimum balance of $5.00.
I am not exactly sure how this works in practical terms. I believe that during the application process there is a question "Where Did You Hear About Us?" and you can pick "Family/Friend Referral" and you can leave your friend's name and Andrews FCU membership number in the comments field. If you are looking to open up a checking account and set up direct deposit, I am a member now so if you want a referral please contact me.