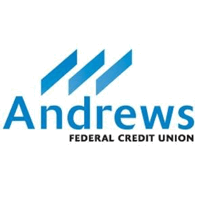 I keep a portion of my cash reserves in certificates of deposit. I decided to open a share certificate from Andrews Federal Credit Union during their 2016 Holiday Promotion. The review information below should apply to anyone trying to open any deposit account at Andrews FCU.
Joining an eligible group for membership. Here is their page on membership eligibility:
Our field of membership includes Washington, DC, civilian and military personnel of Joint Base Andrews, Joint Base McGuire-Dix-Lakehurst, and military installations in central Germany, Belgium, and The Netherlands; as well as over 200 employer groups throughout Maryland, Virginia and New Jersey. We also have nationwide membership eligibility through the American Consumer Council.
As I do not live the in DC area and do not qualify otherwise, I joined the American Consumer Council (ACC), a non-profit organization dedicated to consumer education, advocacy and financial literacy. Sounds like something worth supporting! You can join through the website. I believe the cost is a one-time $8, although there is a promo code "consumer" that has worked to get the membership fee waived. You can make additional donations as you wish. They will send you an e-mail shortly with your ACC membership number.
Application process. You can then proceed to the Andrews FCU website and start the application. You will need your ACC number to satisfy the eligibility question "I am a member of the American Consumer Council (ACC), and my ACC membership number is ___".
Note: Applying for an account will result in a hard credit inquiry. At least for me, they checked my TransUnion credit report.
You will need to provide the usual personal information – name, address, SSN, driver's license, etc. You will also need to provide them with a bank account routing and account number to fund the initial share account. The minimum amount is $5. You will need to keep $5 in your Share account for as long as you are an Andrews FCU member. I just started with $5.
Account approval. Once your account is approved, you should get the following message:
Congratulations, your account with Andrews Federal Credit Union has been opened. Your member number is XXXXXXXX. The signature card has been sent to your email address via DocuSign for you to sign electronically.

Your new account funding is being processed and will be posted to your new account once received by us from your other institution. If you requested an ATM or VISA Debit Card as part of your application, your card order has been placed. The routing number for Andrews Federal is 255074111.

You may now enroll for SmartConnect, our online banking system, by visiting our web site www.andrewsfcu.org and selecting Online Banking Enrollment. If you require further assistance, please call us at 800.487.5500.

Thank you for choosing Andrews Federal Credit Union.
It's nice that you can do the signature card via DocuSign. That meant my entire application process was completed online. I did try to call them a few times, but had some trouble navigating their phone tree without a member number. However, if I didn't have my TransUnion report locked, I wouldn't have had any reason to call them at all. Other than that delay, I would say the application took only one or two days to process.
Funding your checking, savings, or certificate account. I found the easiest way to open my share certificate was to move money into my share savings account, and then fund the certificate from the share savings. I use Ally Bank as my banking hub, so I added Andrews FCU as an external account in my Ally account using my share account number and routing number (255074111). For some reason, the direct login verification didn't work for me, so I completed the verification using two small test deposits. It took 2 business days for the test deposits, and 2 business days for the transfer from Ally to Andrews FCU.
Opening the share certificate. Once the funds arrived, I opened the share certificate online by clicking on "Open an Additional Account". Despite the promotion stating you had to call in, the special certificates were available online. Here's a screenshot (click to enlarge):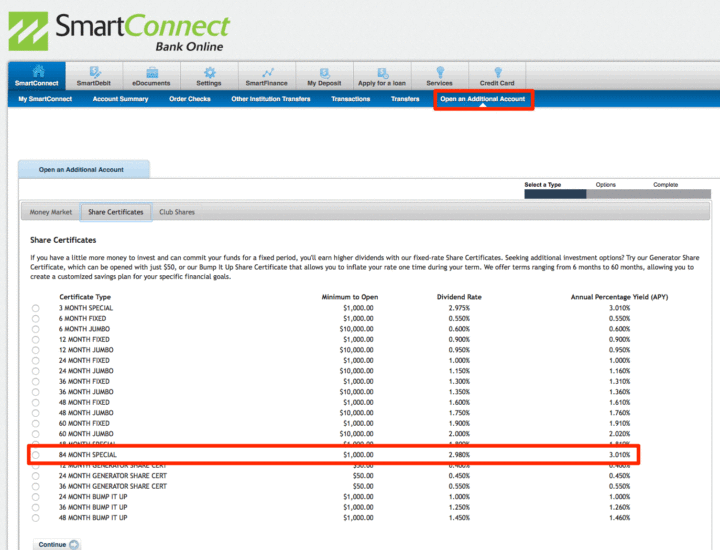 You will need to chose your dividend reinvestment and maturity options. That's it. The share certificate now shows up on my online banking page, right next to the share savings account. The process was pretty straightforward, just be sure to remove any credit locks or freezes on your TransUnion credit report. Remember that you'll need to fund your special certificate by any stated deadline.