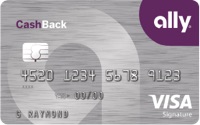 If you have an Ally Bank savings or checking account, you've likely been pitched their new Ally CashBack credit card recently. Here are the highlights:
$100 bonus when you make $500 in eligible purchases during the first 3 billing cycles.
2% cash back at gas stations and grocery stores
1% cash back on all other purchases
No limits on rewards categories.
10% boost on earned rewards when you deposited into an eligible Ally Bank account.
No annual fee.
Intro 0% APR for 12 billing cycles on balance transfers. (No 0% APR on purchases.) Balance transfer fee is either $10 or 4%, whichever is greater.
As with all the big banks, Ally is working on their cross-marketing. They want you to keep your checking, savings, IRAs, brokerage, and credit cards all at the same place. Ally's strong in the online banking side (named best online bank by Money Magazine for the fifth year in a row). Credit cards are here, and a brokerage arm is just around the corner (TradeKing). I am personally interested in such convenience, as for years Ally Bank has been my primary checking, savings, and CD accounts.
Including the 10% relationship bonus, this Visa Signature card would get you 2.2% cash back on gas stations and grocery stores and then 1.1% on all other purchases. While this structure is better than the traditional 1% flat credit cards, the competition has heated up in the last few years. Consider:
The best program to compare against is Bank of America. The BankAmericard Cash Rewards Credit Card offers 1% cash back on every purchase, 2% at grocery stores and now at wholesale clubs, and 3% on gas up to the first $2,500 in combined grocery/wholesale club/gas purchases each quarter. Bank of America also offers a 10% bonus on rewards earned when you redeem your cash back into a Bank of America checking or savings account. However, they also have premium relationship tiers that offer up to a 75% bonus on rewards that would work out to 1.75% cash back on every purchase, 3.5% at grocery stores and wholesale clubs, and 5.25% on gas for the first $2,500 in combined grocery/wholesale club/gas purchases each quarter. To me, this made it worth it to build up a "relationship" with them, including opening up a new brokerage account and new credit cards.
Ally touts this new card as "simple", but what would have really been simple is a flat 2% cash back card on everything and then a small relationship bonus on top of that. That way, when taken together with an Ally Bank account, the card would have been the best in many respects. Combined with their high-interest deposit accounts, you'd have a combo that could shake up the industry. The weakest point of my Bank of America combo is their piddly 0.05% APY on savings accounts and sad CD rates, whereas one of the strongest points of Ally is the 1.00% APY of their savings account and highly-competitive CD rates.
Bottom line. The rewards are above-average overall, and might be worth a look for Ally-centric customers. However, there are top cards in the marketplace that offer close to a flat 2% on everything, and better gas and grocery-specific cards as well. I personally prefer to pick things à la carte unless the sum is greater than the parts, as is the current situation with Bank of America.