As we pass the halfway mark of this year, it was time for my quarterly check-in on my 401(k) account. The best-case scenario for a 401(k) plan is:
Company match. A little extra help from your employer is always nice.
Good default settings. The set-up process should be easy and completely painless. Ideally, you should be automatically opted-in for a some level of savings into a a diversified, low-cost option.
Low-cost investment choices. The less you pay, the more you keep.
Low account fees. Ditto.
For more and more Americans, the 401(k) is their primary vehicle for retirement. Here's a good visualization from Bloomberg about the year-by-year decline of pensions (defined-benefit) and the rise of 401/403b/similar (defined-benefit) plans.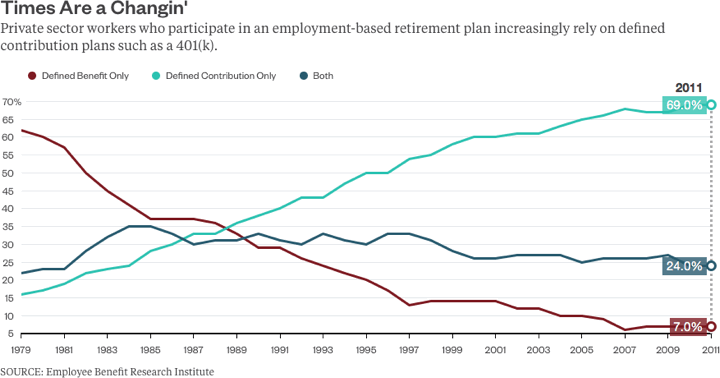 Here's another infographic from Bloomberg comparing income level, the availability of a 401(k) or similar plan, and the actual participation rate in such a plans.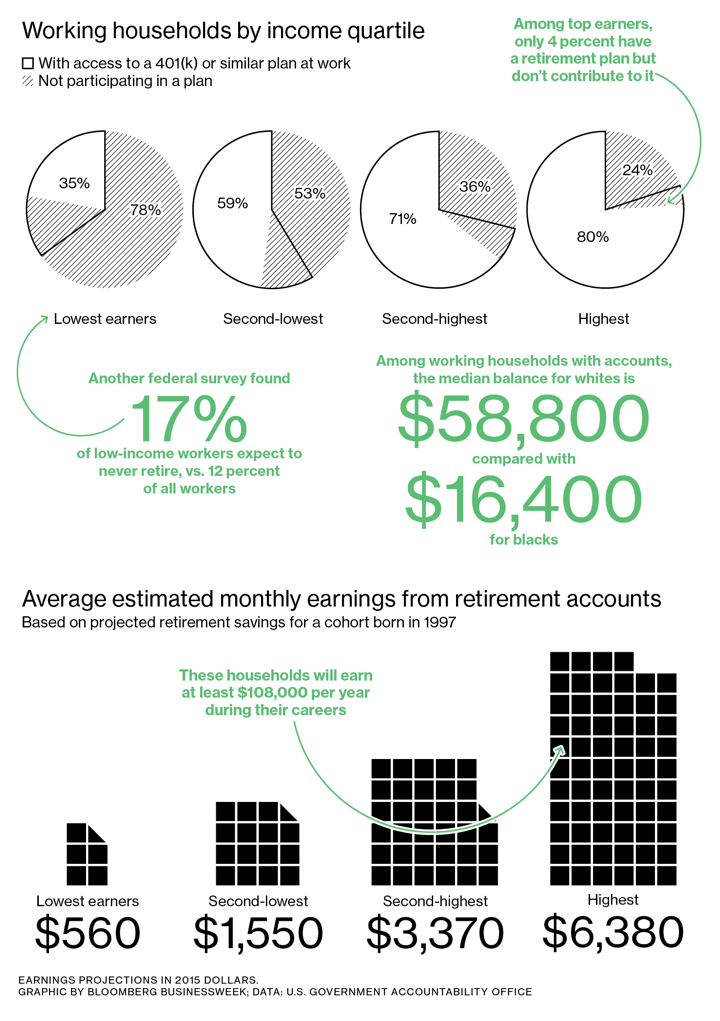 The higher the income, the more likely you have access to a 401(k) or similar plan. In the highest-paid quartile, 96% of people with the option do participate. Not too surprising. The most interesting takeaway was that even in the lowest income quartile, if you offer a 401(k) plan, the majority of people will participate! The sad part is that only 35% of the lowest income quartile are even given the option.
Improving all the factors I listed first above (company match, lower fees) is still a good thing and is often talked about. However, it would seem like the best thing would be to widen the availability of such an option to everyone. This was probably the thinking behind the creation of myRA, but behaviorally there are still too many obstacles to signing up for the program. It still requires work and opt-in with no immediate benefit. There's a reason why there are always sign-up bonuses for bank accounts – filling out applications is tedious.
If every time I was harassed to switch to paperless statements with "just one click", someone was instead harassed into setting up a retirement plan with auto-contributions with "just one click", there would be a lot more savings.