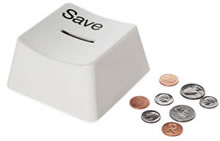 We've all heard that you should keep an emergency fund in case of unexpected expenses or unemployment. But what if you don't have the cash? Personal finance author Jonathan Clements presents a mathematical argument for using your 401(k) as an emergency fund in his recent article The Terrible Twenties. Here's how the math works.
Let's say you are in the 15% federal income tax bracket and you put $2,000 in your employer's 401(k) plan. Your out-of-pocket cost would be $1,700, thanks to the initial tax savings. At the same time, your employer matches your contributions at 50 cents on the dollar, with the matching contribution vested immediately. Result: Your $2,000 investment gets you a $1,000 match, bringing your account balance to $3,000.

If you are then laid off and forced to liquidate your retirement account to pay living expenses, you might lose 15% to federal income taxes, plus another 10% to the tax penalty for making a retirement account withdrawal before age 59½. That combined 25% hit would still leave you with $2,250, well above your $1,700 out-of-pocket cost.
To be fair, this isn't nearly as radical as it seems. Most prioritized lists of "where I should put $XXX?" will put a 401(k) up to the company match as the #1 priority, even above a cash emergency fund.. A company match gives you a way to earn a 50% or 100% instant, risk-free return on your money. This is a rare opportunity that you shouldn't pass up.
However, not mentioned is that after you exhaust any 401(k) match, you could also consider contributing to a Roth IRA and using that as your emergency fund. The primary reason for this is that Roth IRA contributions can be taken out at any time, without penalty. Unlike Traditional IRAs, withdrawals from Roth IRAs are subject to ordering rules (see Chapter 2 of IRS Pub 590-B), which state that you always withdraw your own contributions first.
In either case, since you can only contribute a certain amount to 401(k) and/or IRAs every year, it would be wise to take advantage of this tax-sheltered space as much as possible. Don't make a withdrawal if you can avoid it, but if you have limited options, it can make sense to contribute first and hope you can keep the money invested for retirement.