I'm now nearly halfway through the Live Below the Line challenge, and here are some pictures and additional cooking/eating commentary about my $1.50 a day menu. Please also refer back to my menu and ingredient list and my nutritional information breakdown.
Breakfast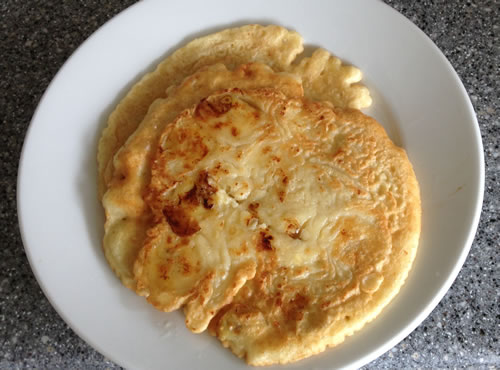 These banana crepes/pancakes are pretty big at nearly 8 inches in diameter. At 300 calories each, each one has about the same calories, fat, and (update: half the) protein as an Egg McMuffin at McDonald's but at only 10 cents each they are less than 5% the price and have no added flavors or preservatives. If I added another egg, it'd be 15 cents each and the protein would be equal. (It'd be even better if I used whole grain flour.)
I have to prepare them from scratch daily, but I timed myself and cooking time including prep was only 15 minutes. I know that may still be too much time for some folks, but waiting in a busy drive-thru line can take 5-10 minutes on its own. I simply whisk .75 cup flour, an egg, 1 cup water, and a little salt together to make a thin batter. Then add one sliced banana. While frying the second pancake, I clean up my mixing bowl, whisk, and measuring cups. When done eating, I simply wash my single plate and rinse/wash the nonstick frying pan.
They actually taste good; I would eat them on any given weekend. I don't really miss the milk found in the original recipe. I do wish I could alternate between apples and bananas, but apples cost too much for this challenge. For a bit more money, the variety would be nice.
Lunch