There's always the weekly garage sales to dig through, but if you are after some higher quality furniture, antiques, or collectibles, this Money magazine article about estate sales suggests another option. Estate sales are similar to garage sales, except the process is more formal and many times everything in the entire house is marked with a price tag. You walk in, snoop around, and pick up what you want. Everything often must be sold within the 1-3 day sale. It's usually after a death, but there might be a number of other causes.
The article has a bunch of good tips, including:
Call head to find out what specific items are available beforehand, so you can do your homework.
Arrive either really early to get the best selection, or really late for the best haggling.
Bring tools like a big tote bag, bubble wrap, a flashlight.
Use the internet or phone-a-friend to prices things instantly while browsing.
To find a sale, there are newspaper classified ads, Craigslist, and local liquidator firms. There's also EstateSales.net, which if you are in the San Francisco Bay Area there is a sale of the contents of four model homes Friday-Sunday in Discover Bay. (Wonder if this indicates good or bad news?) I like the idea of good furniture at steep discounts! I hope it's better organized than this picture from another listing in the area: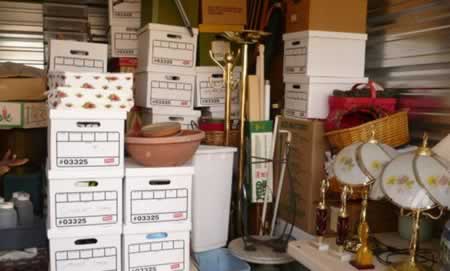 Also, I found that it's actually better to use the "Find Companies" section of EstateSales.net and look for local liquidator firms; they usually provide a link to their websites. I have found several estates sales which are only listed on the individual firm websites. Anyhow, although I don't think I'd be a good antique flipper on eBay, I still think it would be interesting to go to one of these. Anyone have any good stories?
By Jonathan Ping | Entrepreneurial | 5/23/08, 4:33am