Up until now, there are two reasons I don't have any privately-bought life insurance. For one, as I've mentioned nobody is actually dependent on my income. Wife is doing fine, don't have any kids yet. We also have 1x annual salary's worth of life insurance as a benefit from our employers, and she'll get all my retirement account funds if something happens to me. The other reason is that I know that life insurance is priced based on tiers of health, and I've been secretly thinking that I can back into my high-school swim team physique and get the absolute cheapest level of life insurance.
However, I'm starting to think both of these reasonings are flawed.
I used to think that there was no need for life insurance if nobody needs your income. But perhaps I should amend this – You need to weigh the chances that someone will eventually need your income. For example, if I fully plan on having kids within the next 2-5 years then my income will probably be needed at that time. And as someone else mentioned in a comment, life is a funny thing and you never know when my wife might just get pregnant unexpectedly.
So the question is, do I really gain anything by waiting until the last minute? The risk I take is that in the meantime my health deteriorates and I become uninsurable. You might find out you have cancer, fight bank and end up in remission, and lead a long life. You develop a heart condition have it under control, and be perfectly functional. But in either case, nobody will be issuing you an affordable policy.
(This argument has also been used by an insurance salesmen telling me to insure my kids starting at birth with a whole life policy, but I think that is stretching things a bit.)
What about trying to get healthier first? The fact is that if I'm young and even slightly healthy, term life insurance is still going to be relatively cheap, whether or not I manage to stamp out my love of ice cream. One easy-to-use site to do some quick comparisons on is Term4Sale.com. Currently, it says I can get $500,000 of 20-Year Term insurance (non-smoker) for about $25 for the highest Preferred Plus tier. But the lower Preferred tier is only $5 more, and the even lower Regular Plus/Select tier is only $10 more per month. The site estimates that I can have both elevated cholesterol and raised blood pressure and still land in one of these groups.
I would say if you've been harboring this desire to get healthy for more than 6 months or so and haven't made significant progress, it's time to give it up and pay the extra $5 per month. 🙂
Finally, the current cost of term life insurance is still historically low, so there is not much incentive to wait for better overall rates. Here is the general trend over the last 10 years for 30-year term (click to enlarge):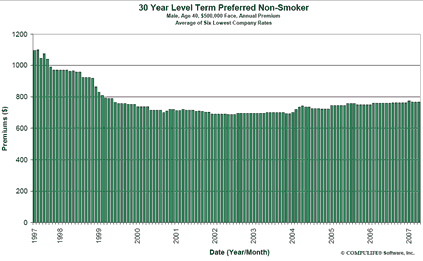 Yet another thing that reminds me that I'm not getting any younger…