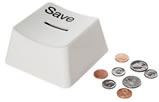 Congress has just passed a bill which the President has promised to sign that includes an extension of the 2% payroll tax cut for the rest of 2012. Specifically, the employee portion of the Social Security tax is reduced to 4.2% in 2012 instead of the standard 6.2%. The employer portion remains unchanged at 6.2%. The Medicare tax remains unchanged at 1.45% each for employers and employees. This tax cut has already been in effect since the beginning of 2011 and was scheduled to end at the end of February 2012 before this most recent extension.
For example, someone earning $50,000 annually will see increased take-home pay of $1,000 spread out evenly over a year of paychecks. The limits on wages subject to Social Security tax is $110,100 for 2012, so the maximum savings per person is $2,202. You can verify this tax cut for yourself by checking your most recent paycheck stub. Divide the Social Security tax line by your Gross Pay line. It should be either equal or less than 0.042, or 4.2%. (It might be less than 4.2% due to items that are exempt from SS tax like flexible spending account contributions.)
Spend it, or save it?
The idea behind this tax break is to provide a small, steady increase in income that you'll hopefully spend quickly and thus stimulate the economy. Even though $1,000 sounds like a lot, when it comes to you as $40 every bi-weekly paycheck, you tend not to notice it. Surveys confirm that the majority of people don't even know this tax cut exists after enjoying the benefits for a year.
However, if you're happy with how you've already stimulated the economy and would like to put something away to invest and spend later, this might be a good time to increase your savings rate instead. Remember that your savings rate is the most important factor in whether you'll be able to retire early (or perhaps ever).
Since this tax break comes automatically every paycheck, it makes sense to "pay yourself first" by putting it aside immediately via automatic savings. Instead of mindlessly spending like they want you to, mindlessly save it instead. 😉 If you have a 401(k) or similar employer-sponsored retirement plan, why not increase your contribution rate by 2%, and see if you notice it for the rest of the year? Of course, if you have high-interest debt and some extra willpower, perhaps you should put it aside each paycheck and pay that off instead. You can also use direct deposit or automatic transfers to send money over every paycheck to an online savings account.
Sources: Philadelphia Inquirer, Associated Press