I took some time this weekend to check on my investment portfolio, including employer 401(k) plans, self-employed plans, IRAs, and taxable brokerage holdings.
Asset Allocation & Holdings
You can view my target asset allocation here, along with links to other model asset allocations. Despite the headlines, I still like to buy, hold, and rebalance primary in low-cost index funds. Here is my current asset allocation: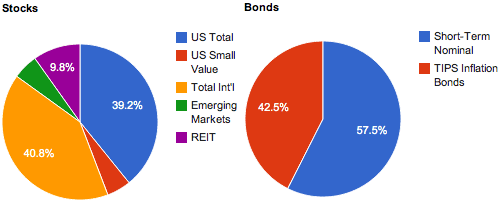 I continue to rebalance continuously with new cashflow. Everything looks okay; stocks have been on a pretty good run recently for whatever reason and bond yields are still kept low by central bank policy. My personal outlook for the world economy is still uneasy. My current ratio is about 75% stocks and 25% bonds, but my goal is to get closer to a 60% stocks and 40% bonds setup, the classic balanced fund ratio within the next 5-7 years.
The main change since last time is that I dropped the stock funds in my 401k plan and moved them all to my taxable accounts for tax-efficiency reasons. I needed for space for bonds. I also stopped buying shares of the stable value fund in my 401k because new purchases only earn 1.25% interest. Instead, I am buying the only other bond option which is the behemoth PIMCO Total Return (PTTRX) which has a relatively low 0.46% expense ratio due to it being an institutional share class. This fund is actively managed and includes various types of bonds, but since the portion is so low, I'm still classifying it under my short-term nominal bond asset class.
Stock Holdings
Vanguard Total Stock Market ETF (VTI)
Vanguard Small-Cap Value Index Fund (VISVX)
Vanguard FTSE All-World ex-US ETF (VEU)
Vanguard MSCI Emerging Markets ETF (VWO)
Vanguard REIT Index Fund (VGSIX)
Bond Holdings
Vanguard Limited-Term Tax-Exempt Fund (VMLTX)
PIMCO Total Return Institutional* (PTTRX)
Stable Value Fund* (3% & 1.8% yield on existing balances, no longer contributing)
iShares Barclays TIPS Bond ETF (TIP)
Individual TIPS securities
* Denotes 401k holdings due to limited choice.
The overall expense ratio for this portfolio is in the neighborhood of .20% annually, or 20 basis points, which is much lower hurdle to overcome than the average mutual fund expense ratio of over 1% annually. This is all self-directed inside accounts held at Vanguard (IRAs, taxable), Fidelity (401k, Solo 401k), and a small retirement plan provider. I have some "play money" assets at other discount brokers that is invested in individual stocks, but the total is less than 2% of our net worth and not included here.
Goal Progress
Due to our goals to achieve financial independence early, I use a 3% theoretical safe withdrawal rate on my portfolio for the purposes of my tracking. This means that I expect every $100,000 that I save will provide me an inflation-adjusted $3,000 in expenses forever. However, in reality we will probably adjust our withdrawals based on our personal inflation, continuing income, and market returns.
With portfolio increases and additional contributions, at a 3% withdrawal rate our current portfolio would now cover 50% of our expected non-mortgage expenses. If you recall, I also plan to have the house paid off, and I will be making a lump sum payment shortly to bring our home equity past 50% as well. Hopefully as we cross the 50% hump, things will accelerate as portfolio growth will benefit from compounding returns and our mortgage balance will shrink faster from the opposite effect as more of our monthly payment goes towards principal as opposed to interest!