The Credit Suisse Global Investment Returns Yearbook 2012 (pdf) provides an analysis of returns from 19 major developed countries from 1900-2011. An article inside called The Real Value of Money by Elroy Dimson, Paul Marsh, and Mike Staunton of the London Business School explores how different asset classes respond to various levels of inflation and deflation.
The table below taken from the article summarizes the long-run performance and inflation sensitivity of those assets for which there is a full 112-year return history available. Note that real returns, or returns in excess of inflation, are used instead of nominal returns.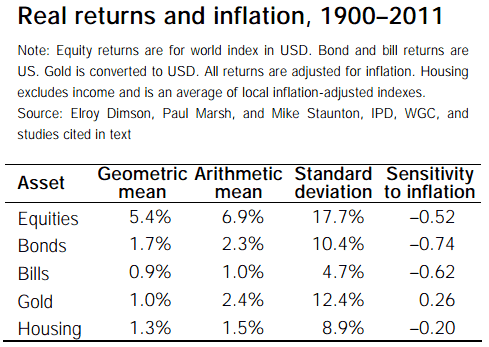 Equities. Represented by a US dollar-denominated world index, equities had the highest annualized real return of 5.4% but also the highest standard deviation. Stocks were moderately affected by inflation overall, but did not do well in periods of extremely high inflation.
Bonds and bills. Represented by US bonds and Treasury bills. But in every country studied, local equities outperformed local government bonds. Treasury bills are closer to cash, with higher credit quality and shorter duration. Bonds provided much lower real returns and lower standard deviation. Bonds were heavily effected by inflation, and did worse than stocks in periods of high inflation. Bonds are the best protection against deflation.
Gold. Long-term real returns are quite low, around 1%, on par with Treasury bills but with higher standard deviation. The bright spot is that they provided the most protection against inflation.
Housing. This refers to average prices of residential real estate across many cities. Long-term real returns are about 1%. However, you get to live in your house so there is a consumption benefit. Housing is less impacted by inflation than everything except gold, but the price risk of owning a single home is probably higher than the average home price data.