Unwired Buyer is a service that allows you to bid on eBay auctions through your phone, and is currently giving out an easy free $20 via PayPal for new users that sign-up and complete a phone bid. I was pretty skeptical of the offer at first, but I just got paid about three days after my initial bid. Easy twenty bucks.
To qualify, you must have a 10+ feedback score, or have been registered for 12 months. Here's the step-by-step on getting your free money:

1) Sign up with them, either directly or via referral. You don't need a referral to sign up, but if you do the referrer also gets $5 at no cost to you. If you would like a referral you can contact me.
2) You must link your eBay account. They are an 'eBay compatible application', so they don't actually store your password, but they do have the ability to bid for you. Thus, I recommend not making your Unwired password the same as your eBay password. After doing my own due diligence, the company seemed legit, so I went for it. After signing up you do have the ability to un-link the accounts and then changing your password.
3) Log into eBay and find an auction to bid on. What happens is first you add an auction to your Watch List (do not place a bid online). Unwired Buyer then they will call you on your phone when there are 3 minutes left in the auction, and then you can decide whether or not to bid. Remember, you need to do a phone bid to get the bonus. You don't need to win, just bid!
To get the $20 and run, I would recommend just finding a 1 cent e-Book with free shipping, and bid on it. Here is a very useful link to find low-cost auction options. Just find one that ends at a convenient time for you. Easy!
Best case, you get outbid and get $20. Worst case, you have to pay a few pennies for your $20
You don't even need to pay PayPal fees on your winnings!
4) Wait for the call. I recommend having your PIN number handy. You'll enter that, and then you can either listen for directions or just hit *#1 to bid the minimum amount.
5) Wait for the money. They say 2-7 working days, I got mine in three inside an e-mail titled 'Unwired Buyer Rewards'. Here is a screenshot of my free money: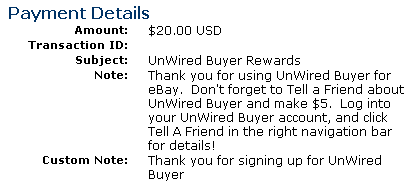 Thanks to Claire of TiredButHappy for turning me on to this offer and referring me to start out as well.
Wait, what do you think of the service?
Honestly, I don't plan on ever using it again. Last minute bidding is too emotional and bothersome, and I think bid-sniping is much, much better. That way, you don't even need to be near a computer or phone. To remove Unwired Buyer, go to My eBay > My Account > Preferences > General Preferences > Third-party authorizations, and revoke the authorization.
By Jonathan Ping | Deals & Offers, eBay | 7/21/06, 12:48am