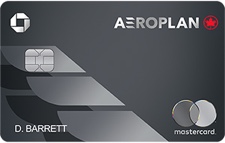 Offer updated. Chase and Air Canada have partnered to create the Chase Aeroplan World Elite Mastercard for US customers. Using the new Pay Yourself Back feature, 50,000 Aeroplan points can be redeemed for $625 back toward eligible travel purchases including flights on any airline (details below). Here are the highlights on the sign-up bonus and Air Canada perks:
Earn 50,000 points – that's $625 in travel value when redeemed with Pay Yourself Back(R).
Earn 50,000 points after you spend $3,000 on purchases in the first three months your account is open.
Free first checked bags on Air Canada flights: one free checked bag for the primary cardmember and up to eight other travelers on the same itinerary.
Automatically receive Aeroplan 25K Elite Status for the remainder of the first calendar year, plus the following calendar year, allowing primary cardmembers to enjoy benefits such as priority check-in, early boarding, upgrades and more on Air Canada flights.
Each calendar year in which you spend at least $15,000 in purchases you earn Aeroplan 25K Status through the following calendar year.
$100 credit toward Global Entry, TSA Precheck or NEXUS every four years (as reimbursement for the application fee charged to your card)
No foreign transaction fees.
$95 annual fee.
Here is the rewards structure on credit card spending:
3X points on dining, takeout, and eligible delivery services
3X points at grocery stores
3X points on direct purchases at Air Canada
1 point for each dollar spent on all other purchases
+500 bonus points for every $2,000 spent in a calendar month (up to a maximum of 1,500 points per calendar month)
Redeeming Aeroplan points for flights. It is very easy to redeem Aeroplan points on Air Canada, Air Canada Express, or Air Canada Rouge flights because "every Air Canada seat available to buy for cash is also available for points, no restrictions." You simply run a search like normal on the Air Canada website, and it will tell you upfront the cost in Aeroplan points. It's quite easy to compare the cash cost side-by-side. In addition, when you have this credit card, you get even better preferred pricing on flights when redeeming points.
Here is an example flight from San Francisco to Vancouver during our March Spring Break period: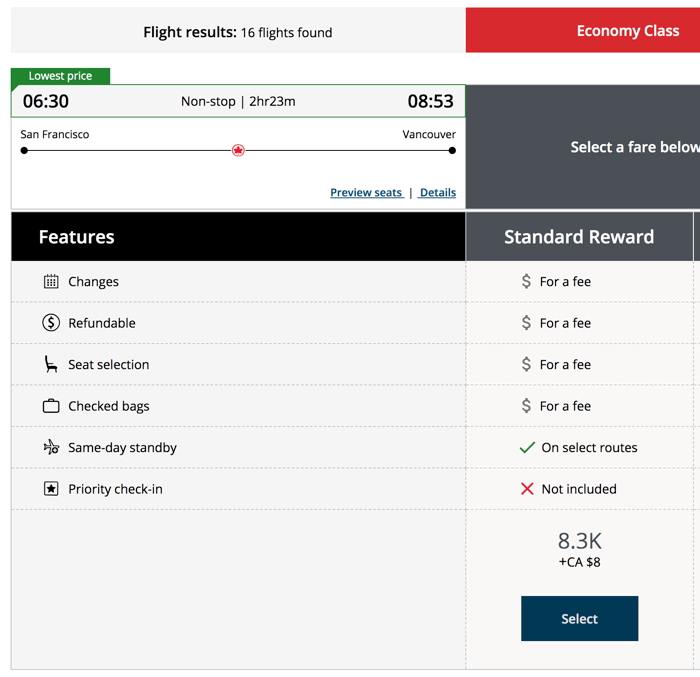 At 8,300 miles + CAD$8 for a one-way flight, that means I could get 4 of these SFO-YVR roundtrip flights for 70,000 with some 3,000+ points left over. This means an entire family of four could get their flights covered. The cash cost for the one way was CAD$207 or US$161 at this writing, for a total redemption value of CAD$1,656 or US$1,288.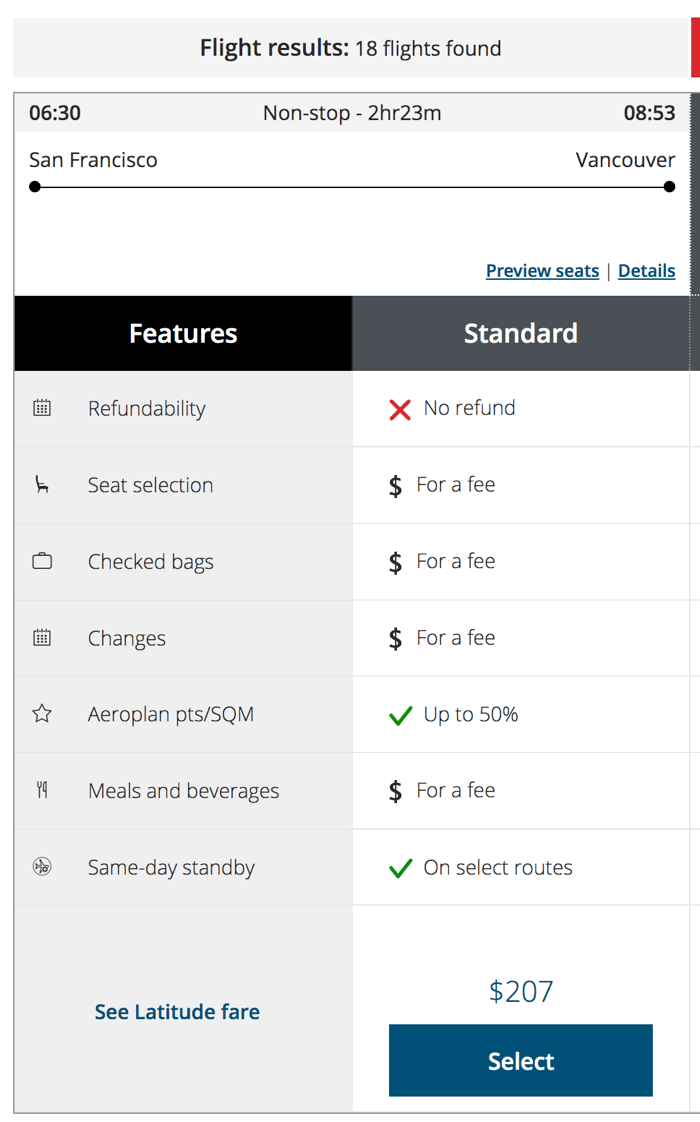 For a more general idea, here is a link to the Aeroplan rewards chart (PDF). The points required are based on distance.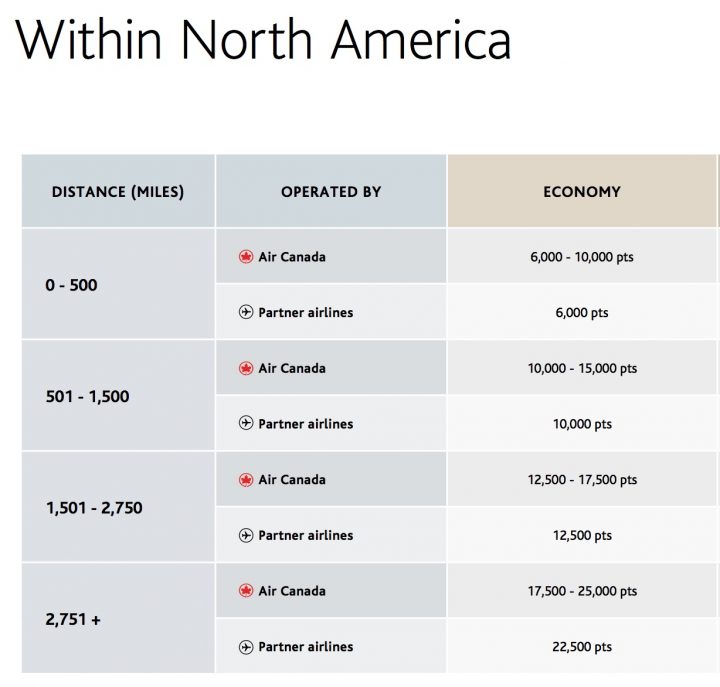 You can also get excellent value by redeeming your points on a partner airline.
Redeem towards any travel at 1.25 cents per points. Chase allows an alternative option to redeem Aeroplan points at a rate of 1.25 cents per point to cover travel purchases including airline flights, hotels, cruises, car rentals, rideshares, parking lots, and more. This provides a nice minimum floor on the value of an Aeroplan point. You can redeem unlimited points for 2023 as an introductory offer; in the future it will be capped at 50,000 points redeemed per year in this way.
Here's all of what counts as "Travel":
Merchants in this category include airlines, hotels, motels, timeshares, car rental agencies, cruise lines, travel agencies, discount travel sites, campgrounds and operators of passenger trains, buses, taxis, limousines, ferries, toll bridges and highways, and parking lots and garages. Some merchants that provide transportation and travel-related services are not included in this category; for example, real estate agents, educational merchants arranging travel, in-flight goods and services, on-board cruise line goods and services, sightseeing activities, excursions, tourist attractions, RV and boat rentals, merchants within hotels and airports, public campgrounds and merchants that rent vehicles for the purpose of hauling. Purchases from gift card merchants or merchants that sell points or miles will not qualify in the travel category.
Bottom line. The Chase Aeroplan World Elite Mastercard offers a 50,000 point sign-up bonus (redeemable for multiple Air Canada flights or use the Pay Yourself Back feature to offset $625 of travel on ANY airline) and Air Canada flight perks (including free first checked bag and elite status).
I will be adding this offer to the Top 10 Best Credit Card Bonus Offers.