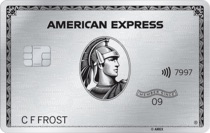 The Platinum Card from American Express is the classic premium travel card, with a hefty annual but a long list of luxurious perks including access to Delta Skyclubs and their exclusive Centurion airport lounges. Unfortunately, these days many of us aren't spending much time in airports. Thus, AmEx has come up with a new stack of perks along with a new limited-time offer that includes a bigger upfront bonus and 10X points on US gas stations and US supermarkets. It's finally big enough to get my attention… The highlights:
75,000 Membership Rewards points after $5,000 in purchases within your first 6 months of Card Membership.
10X Membership Rewards points per dollar spent at U.S. Gas Stations and U.S. Supermarkets, on up to $15,000 in combined purchases, during your first 6 months of Card Membership. That's up to another 150,000 points!
Uber VIP status and up to $200 in Uber/Uber Eats savings in the US annually. Uber Cash and Uber VIP status is available to Basic Card Member and Additional Centurion Cards only.
5X Membership Rewards points per dollar spent on flights booked directly with airlines or with American Express Travel. Starting January 1, 2021, earn 5X points on up to $500,000 on these purchases per calendar year.
Access to the Global Lounge Collection, the only credit card airport lounge access program that includes proprietary lounge locations around the world.
Up to $100 annually at Saks Fifth Avenue in the form of statement credits against purchases on your Platinum Card(R). That's up to $50 in statement credits semi-annually. Enrollment required.
$550 annual fee. (See Rates and Fees)
Note the following language:
Welcome offer not available to applicants who have or have had this Card. We may also consider the number of American Express Cards you have opened and closed as well as other factors in making a decision on your welcome offer eligibility.
Not sure about your history? The application will tell you if they detect that you are not eligible for the bonus based on their records. Given that you can only get the welcome offer once time per lifetime, it is best to apply during a limited-time offer. The previous offer was 60,000 bonus points with no 10X bonus.
Adding up the perks. Let's a take a quick look and valuation of each the many perks on the card.
Membership Rewards points can be converted to the following airline and hotel programs (there are more, this is just a selection):
Delta SkyMiles
Hawaiian Airlines
JetBlue
ANA Mileage Club (partner of United Airlines)
Air Canada (partner of United Airlines)
British Airways (partner of American Airlines)
FlyingBlue (Air France/KLM)
Singapore Airlines
Virgin Atlantic
Choice Privileges
Hilton Honors
Marriott Rewards (Starwood)
They also run limited-time 25% to 40% bonuses on points transfers. You can also transfer to gift cards many retailers at varying rates, but many available at the rate of 10,000 MR points = $100 gift card. My most recent redemption was a $100 Home Depot card for 10,000 points, sometimes less when they run special discount. However, don't expect the cash-equivalent prepaid credit cards at that rate, it's usually closer to a 0.6 cent/point ratio.
75,000 Membership Rewards points, worth an estimated $750. Some folks value these points much more highly, but I prefer to stick to a simple and conservative 1 cent per point.
10X points on US gas stations and US supermarkets. Even at a conservative 1 cent per point estimate, 10X points means that I would put every single US gas station and US supermarket purchase on this card during those first 6 months. You can also buy gift cards like Amazon, Target, and Apple gift cards at many grocery stores. I would buy as many as I could expect to spend in the next 6 months. If you spent $1,000 a month on gas and groceries (and gift cards) for 6 months, that's still another 60,000 Membership Rewards points. Maxing it out would get you 150,000 bonus MR points.
Uber and Uber Eats credits worth up to $200 annually. You get $15 in Uber Cash every month, which can be used for Uber rides or Uber Eats food orders. There is a $20 bonus in December, making it a total of $200 annually. You also get free Uber VIP status, which doesn't save you any money but gets you higher-rated drivers and nicer vehicles at no extra charge.
Right now, AmEx Platinum cardholders can also get Uber Eats Pass free for 12 months.
Saks Fifth Avenue, worth up to $100 annually. You get $50 in statement credit credits towards purchases at Saks Fifth Avenue or saks.com semi-annually (once January to June and another July to December), for a total of $100. Even if you don't regularly shop there, you can buy gifts for others, or simply buy gift cards at Saks.com.
Airline fee credit, worth up to $200 annually. You pick an airline, and they will refund you up to $200 in incidential airline fees (baggage, in-flight food and entertainment, ticket fees, etc). This may not be very useful this year to many folks and I'll estimate the value as nothing to me in 2020, but it's still worth noting for the future.
American Express Global Lounge Collection. Some other travel cards give you Priority Pass Select, which is nice but not as inclusive as the Platinum card's list of 1,200+ airport lounges across 130 countries. Domestically, you get Delta Skyclub access (an individual Skyclub membership costs $545 from Delta alone) as well as the new Centurion Lounge network built specifically for American Express cardholders.
The International American Express Lounges
Delta SkyClub®
Priority Pass
Airspace Lounge
Escape Lounges
Up to $100 statement credit towards Global Entry (includes TSA PreCheck) every 4 years.
Other benefits:
Automatic Starwood Preferred Guest (Marriott) Gold status.
Automatic Hilton Honors Gold status.
No Foreign Transaction Fees.
Rough bonus math. I'm going to be conservative and value the 75,000 Membership Rewards points at $750. Including gift cards bought at US grocery stores, I estimate I could make $5,000 in purchases within 6 months to get me another 50,000 MR points or $500 estimated value. $200 in Uber Eats food is easily used up at my house. $100 for Global Entry/TSA PreCheck membership (every member of my household has this). Even if I assign zero value to the $100 in Saks Fifth Avenue credit and $200 airline fee credits and zero value to the premium airline lounge access, that's still already $1,550 of value against a $550 annual fee for a net first-year value of $1,000+. If I expected to fly in 2021, this would be an even bigger deal.
Bottom line. The The Platinum Card from American Express has added a bunch of new perks that aren't dependent on airline travel, while also adding a limited-offer with a boosted bonus and lots of potential bonus points on purchases at US grocery stores and US gas stations. As you can only get the bonus once, the best time to apply is during a limited-time offer (like now). (See Rates and Fees)
I will be adding this improved offer on my list of Top 10 Best Credit Card Bonus Offers.