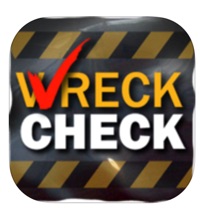 While doing the research for my auto premium comparison post, I noticed that several of the state websites promoted an app called WreckCheck. Created by the National Association of Insurance Commissioners (NAIC), this free mobile app for iPhone and Android is one of those things you should download onto your phone now to hide away in some folder and hopefully never use.
More than simply a checklist, the app will guide you through the steps you should take following an accident. Ideally, it will keep you calm and collected in a time of stress. The app tells you what to do, and also what not to do. As a backup, you can also print out the checklist in PDF form.
Things you should do:
Keep your vehicle information handy ahead of time (glovebox or in-app) including VIN, license plate number, insurance company, agent name, and policy number.
Document the time and location of accident (uses your GPS).
Take pictures of the accident, including damage to all vehicles involved (uses your camera).
Document what happened, including vehicles and people involved (uses your audio recorder).
Call the police (tap to call 911). If they are not dispatched, file an incident report.
Share only your insurance card information, including name and insurance phone number. You are not even required to share your personal phone number.
Things you should NOT do:
Share your home address or drivers license number.
Allow someone to take or photocopy your ID.
Admit fault.
The app can email a completed accident report directly to you and/or your insurance agent. Finally, the app provides tips on how to file and follow up on a claim. Here are some app screenshots and a explanatory video: