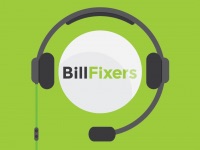 Successful haggle update, April 2016. Shortly after the NY Times profile of Bill Fixers came out, I submitted a request for them to help me lower my Time Warner cable bill. I had haggled with Time Warner in the recent past, but was currently back on regular pricing, so I figured I'd give them a shot. It took them about two months to get around to my request due to the flood of interest they got after the NYT article, but here were my real-world results:
$263.52 reduction of bills over the next 12 months, verified.
They gave me a 20% discount on their fee (half of first year savings) due to the delay, so I owed them $105.41.
One of the discounts they haggled for me ran for 24 months, which added up to another $83.26 in savings on which I owed no fee since they only charge for the first 12 months.
My total net savings: $241.37
The only work I did was to scan and upload a copy of my cable bill, and provide a personal security question and answer (not sure if it was right, or if they had to use it). I understand that some people may not feel comfortable with this, but I did not have to supply my bank account number, credit card information, Social Security number, or birthdate for this situation.
Original post:
I've written about haggling your cable or satellite TV bill for years, with hundreds of comments sharing both success and failures. I've certainly negotiated with a healthy share of customer service reps myself. But I don't like doing it. I do it because unlike say the electrical company, who tells me "you pay based on how much power you use", the cable company tells me "if you bother us, we'll give you a discount, but if you are nice and quiet, you'll pay double". Big Data is tracking whether you compare prices or not, so it is in my best interest to announce that YES I COMPARE PRICES!
But what if you could just pay someone else to haggle for you? Deal with the long hold times, the "accidental" hang-ups, and the multiple transfers between supervisors? Enter brothers Julian and Ben Kurland of BillFixers.com, who will do just that. I came across them in this Businessweek article:
Despite all the various life-hacking sites that will teach you how to reduce your cable bill, a recent Consumer Reports survey found that fewer than half of people who attempted to do so were effective. Services such as BillCutterz have been offering some relief, but the Kurlands say their success rate—94 percent—is higher. It usually works out because they're annoyingly persistent. Calls can last several hours as the brothers are passed among operators, managers, and various departments. The Kurlands often call companies multiple times, looking for different representatives who will cut a deal. "You'll talk to three people who won't offer anything, and the fourth one will magically have a discount that no one mentioned," Ben says.
Which companies will they negotiate with? According to their website, they'll take a shot at any recurring monthly bill you have. They don't do things like credit cards and medical bills.
Television (Cable, Satellite, IP TV)
Internet (Cable, DSL, Other)
Landline
Cellular (AT&T cellular bills are one of the "easiest". T-Mobile is one of the hardest.)
Satellite Radio
How much does BillFixers cost? They work on a contingency basis. If they don't save you money, you pay nothing. If they do, they charge you 50% of the first year's savings. You can pay via lump sum or in monthly payments (which in theory would match up with your monthly savings). Some stats from USA Today:
– Of the 650 clients, 94% receive savings
– The average reduction in bills is greater than $300 per customer
– About $155,000 has been saved for customers since 2014
I don't doubt that someone with the right skills and motivation can be a good hired negotiator. I suppose the only concern would be giving out personal information like Social Security Number. However, if you give them the right information like account numbers, they shouldn't need that kind of sensitive information.
If you've been thinking about haggling but have been putting it off due to either dislike or procrastination, why not give them a shot?
I'm going to add BillFixers to the growing list of services that will help find you money for free (but if they find it, they may take a cut).