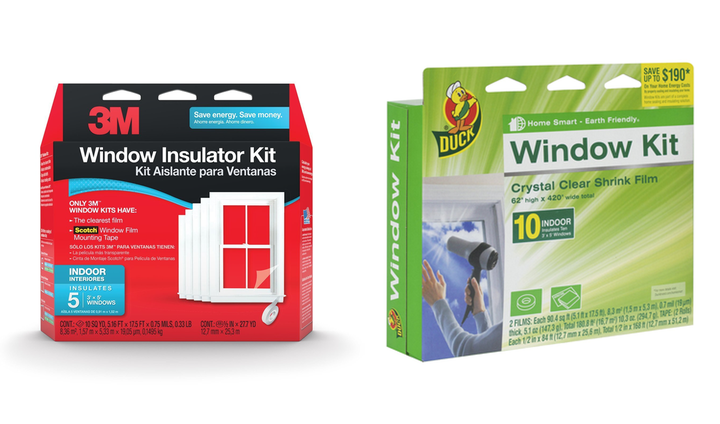 Extended review, updated prices, added tip using painter's tape. Every year as winter arrives, search engine visitors find their way to this post about how we used to winterize the single pane, very drafty windows in the 90-year-old house we rented. We had electric baseboard heaters, which meant our electric bill doubled to quadrupled in the winter months. On a recommendation by a neighbor, we decided to install some simple plastic shrinkwrap insulation. You can find kits in hardware stores and online for only a few dollars per window. The film creates an insulating air pocket that keeps your heat (and thus $$$) from flowing outside.
Installation preview. Here's how nearly all of these kits work:
Measure your windows and cut the plastic sheet to the size of the wooden frame you'll be sticking it too, being sure to leave a 1″ extra buffer on all sides.
Apply one side of the double-sided tape to your window frame (indoors).
Carefully apply your plastic film to the tape. Do it slowly from top border, then sides, then bottom border. It doesn't have to be perfect but try to keep things taut.
Use the hot air from a hair dryer to "shrink" the plastic and remove all the wrinkles.
Trim away excess plastic film.
The result: you can still see out your windows, but it reduces drafts and you have an insulative air pocket. Here are some quick pictures of my handiwork:
The first one is after I put up the plastic and took out the wrinkles, and the second one is after I removed the excess plastic. I was a bit skeptical of the product beforehand, but it turned out pretty good. The wrinkles all came out, and the tape seems to be pretty airtight, at least for now. I can even tell where cold air came in by seeing where it fogs up the plastic. You can tell there is plastic sheeting there if you look closely or hit the glare just right, but overall it's pretty unnoticeable especially if you use blinds or drapes.
Cost. Here are some prices along with average review ratings as of December 2015.
The 3M kits tend to be the most expensive amongst the popular brands. Some reviews state that the 3M brand is worth the extra cost as they stick to the windows longer and with cleaner removal (3M = Scotch tape brand). I was happy with the cheaper Frost King brand, but I didn't try the 3M brand so I can't offer a direct comparison myself.
Quick buying tip. Measure your windows first, and then compare it with the kit before purchase. Some kits come in separate sheets, while others come in a big roll. If you have odd size windows like myself, the single sheets may not fit your windows.
Use painter's tape for easier removal? A few people had questions about the sticky tape removing paint from windows and/or leaving a residue. I just happened to get a good tip regarding this via e-mail from reader Ron:
If one uses "painters tape" before applying the two sided sticky tape, before applying the plastic film, there is NO problem removing in the Spring! I just wish I can eventually find a "clear" painters tape! THAT would be great! Are you listening 3M??!![…]

So, it goes like this… a layer of the painters tape, neatly trimmed…. the sticky tape on that, then the plastic film on top of the sticky tape. […]

I can't believe the utter savings I enjoyed as a benefit! A 2/3rd savings over the previous year! It was nice not hearing my furnace come on very often.
I had concerns that the painter's tape would come loose, but Ron assured me it stayed up for him. Other readers have indeed reported that the double-sided tape came loose from the painter's tape, so you may want to do a test run with one window first.
Summary. I did the all big windows in our house for a total cost of under $25 plus a few hours of weekend labor. I don't have exact numbers, but over the course of the season, this added insulation definitely paid for itself in heating bills. If I owned the house as opposed to renting, I might have tried to justify new double-pane windows, but otherwise this was a quick way to save on heating bills.