Recently, the NY Times had an article about how many models of fuel-efficient cars may take years to justify the extra cost. Here's a graphic from the article with data from TrueCar: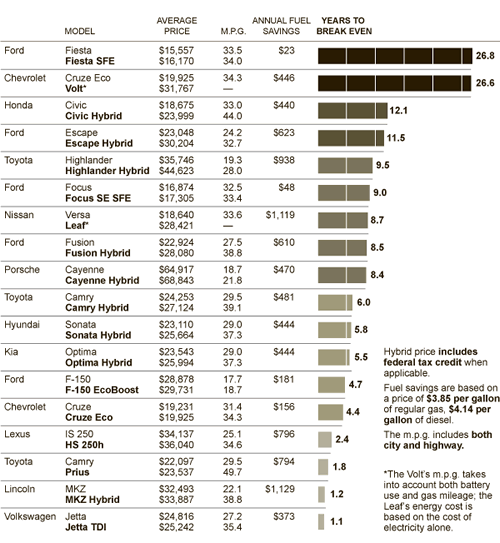 (I note that the NY Times compares the Prius with the Camry. I still think the Corolla is closer in size. You can see from this side-by-side comparison that in terms of length, width, interior passenger volume, shoulder room, and leg room, the Prius is closer to the Corolla than Camry. Also, does the Lincoln MKZ hybrid really only cost $1,400 more than the regular model and is 15+ mpg better??)
Consumer Reports also had a similar article which discussed how the ultra-efficient "40 mpg" models which were upgrades to the normal versions. The Ford Focus SFE, Honda Civic HF, and Chevrolet Cruze Eco all cost between $495 and $800 more, but the breakeven time when using real-life mpg varied widely between 3 and 38 years.

Frank of Bad Money Advice proposes that using break-even time (cost divided by annual savings) is "unnecessarily crude" and proposes using an IRR calculation instead. I usually agree with Frank, but this time I think the break-even time is necessarily crude. One of the biggest variables in car ownership costs is how long you'll keep the car. Many people will buy a car, pay extra for hybrid or whatnot, and then still trade it in down the road when circumstances change (longer commute, another child) or if something else shiny catches their eye. The average length of car ownership is currently about 6 years.
In his example, he takes the Ford Focus SFE, which costs $495 more then the Focus SE but will save you $145 a year. Thus, the break-even time occurs at 3.4 years. However, if you keep the car for 6 years then your IRR with 0% discount rate would 18.95%, a great rate. If you change the ownership term to 4 years, the IRR is 6.65% (still pretty good). But if you have the car for 3 years, your IRR is –6.19%. As long as you get past the break-even time, your return on investment going to be positive and in with today's interest rates, likely much better than you could get otherwise with such certainty. If you usually own your cars for 10+ years, then a lot of these hybrid options listed above can still be worthwhile.
However, be careful as going from the "regular" Chevy Cruze to the Chevrolet Cruze Eco will only save you $20 a year in gas while costing around $800 more upfront, requiring decades to break-even. We also see that the real-world mpg of the Cruze Eco was 27 mpg, while the EPA blended mpg is 34.3. The Toyota Corolla averages a real-world 32 mpg on the same test and costs less, and there are lots of used ones available. Also, remember if you already have a relatively fuel-efficient car, it requires a bigger jump in mpg to save you a significant amount on gas, so it may be better just to keep that old Corolla.