The term "Safe Withdrawal Rate" (SWR) usually refers to the amount of your portfolio that you can withdraw each year in retirement safely without running out of money. The "4% rule" is often used, which says that if you want $40,000 inflation-adjusted every year safely , you need $1 million as your target.
Reader Dave thoughtfully sent me an interesting Financial Advisor magazine article about an upcoming academic paper by Dr. Wade Pfau that takes a look at this from another angle. What if you wanted to figure out a "Safe Savings Rate"?
Let's say you save for 30 years, and then retire (spend) for 30 years. The traditional SWR only depends on the 30-year period when you are saving reach that target number. Instead, what if you looked at the entire 60 year period together. This ends up smoothing things out, because periods of high return are often followed by periods of low return, and vice versa.
Here are the baseline assumptions. The goal is to withdraw 50% of current salary, inflation-adjusted, during retirement. You maintain a constant asset allocation of 60% stocks and 40% bonds (T-Bills). Results are in the chart below. The blue line is the saving rate according to the 4% rule, and the black line is based on the new 60-year test period using actual investment returns.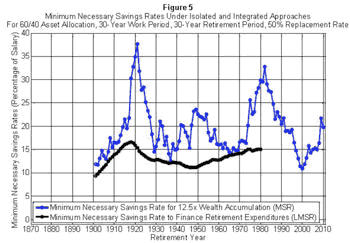 Based on market data since 1871, a savings rate of 16.62% would have worked every time. As you can see the black line is also much more consistent over time. Can everyone manage that? Maybe not, but few people are satisfying the 4% rule as well.
The given scenario is not one-size-fits-all, but it would be interesting if this research was expanded into some sort of retirement calculator. For example, all other things held the same, if you saved for 40 years, the safe saving rate drops to 8.77%. If you saved for only 20 years, the safe saving rate rises to over 30%. I'll have to wait for the published paper to see what happens if you go a bit riskier into say 80% stocks/20% bonds, or if it accounts for changing allocations over time.
Update: Here is a link to the working paper [PDF].