You go on at $50,000 trip touring the world by private jet. One of my oldest (and obviously, most successful and busy) friends is actually doing this next year, the deposits have already been sent in.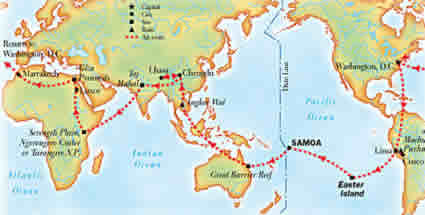 Join National Geographic on an unforgettable expedition, traveling in ease and comfort by private jet. While circling the globe, explore the world's most treasured and legendary natural and cultural wonders. Visit Peru, Easter Island, Samoa, the Great Barrier Reef, Cambodia, Tibet, India, Tanzania, Egypt, and Morocco on this once-in-a-lifetime adventure.

* Meet with National Geographic Explorers-in-Residence Meave or Louise Leakey in Tanzania and Dr. Zahi Hawass at G?za.
* Explore 12 UNESCO World Heritage sites, including Machu Picchu, Angkor Wat, the Taj Mahal, and the Pyramids of G?za.
* Discover Easter Island's giant moai statues and famously lost culture with resident archaeologist Edmundo Edwards.
* Delve into the natural world on game drives in the Serengeti Plain and while snorkeling in the Great Barrier Reef.
This is me being jealous green with envy.