(Update: Walmart's new automated low price guarantee appears to be nationwide now. While still in "beta", their FAQ has been scrubbed of any geographical limitations. Their inclusions list was changed to add the phrase "most fruits and vegetables." You must submit receipts within 7 days. Via nicemann of FW. More details below.)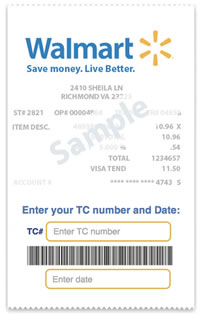 Many stores offer a "low price guarantee" but in reality nobody actually uses them. You have to find the competing price yourself, wait in the returns line, all for the opportunity to argue with the cashier about the validity of your claim. Who wants to do that?
Walmart is has a new feature called Savings Catcher that automates their low price guarantee. Thanks to reader Doug for the tip. Here's how it works:
Enter the TC Number from your Walmart receipt at walmart.com/savingscatcher or scan the barcode using the Walmart smartphone app.
Savings Catcher compares the prices of the items you bought at Walmart to the advertised prices at the time of your purchase from the print and online versions of weekly print ads of top retailers in your area.
If Savings Catcher finds an advertised price that is lower than what you paid for the same exact item at Walmart, you can get a Walmart Rewards eGift Card for the difference.
This program appears to be available nationwide now. Just for reference purposes, here were the initial test markets and the local competitors they checked against:
Atlanta, GA– Aldi, Food Depot, CVS, Food Lion, Dollar General, Dollar Tree, Family Dollar, Ingles, Kroger, Publix, Rite-Aid, Kmart, Target, Walgreens, IGA, Wayfield Foods and Piggly Wiggly.
Charlotte, NC– Aldi, Bi-Lo, CVS, Dollar General, Dollar Tree, Family Dollar, Food Lion, Harris Teeter, Ingles, Kmart, Lowes (Food), Target, Rite-Aid, Publix, and Walgreens.
Dallas, TX– Albertsons, Aldi, Brookshires, Dollar General, Dollar Tree, Family Dollar, HEB, Kroger, Target and Tom Thumb.
Huntsville, AL Market– Aldi, Belle/Food World, CVS, Dollar General, Dollar Tree, Family Dollar, Save-A-Lot, Foodland, Kroger, Piggly Wiggly, Publix, Rite Aid, Target, Walgreens.
Lexington, KY– Aldi, CVS, Dollar General, Dollar Tree, Family Dollar, Save-A-Lot, Kroger, Meijer, Rite Aid, Target and Walgreens.
Minneapolis, MN– Aldi, Cub Foods, CVS, Family Dollar, Hy Vee, IGA, Rainbow Foods, Shopko, Target and Walgreens.
San Diego– Albertsons, CVS, Dollar Tree, Ralph's, Rite Aid, Vons, Smart & Final, Target, Fresh & Easy, Walgreens, Stater Bros and Save-A-Lot.
Savings Catcher applies to your in-store Walmart purchases only. Online prices from competitors don't count. If you use a manufacturer's coupon, it will consider the pre-coupon price. You can submit up to 7 receipts per week and 15 receipts per month. Savings are issued on a Walmart gift card that can be used in-store or online. There are item restrictions.
Included:
Most groceries such as cereal, rice and most fruits and vegetables except for: store brand items, deli, bakery and weighed items like meat.
Consumable items such as paper towels, bleach and trash bags.
Health and beauty items such as shampoo and makeup.
Select general merchandise items.
NOT included:
Store brands, deli, bakery and weighed items like meat.
General merchandise items, (including, but not limited to, electronics, media and gaming, toys, sporting goods, housewares, small appliances, home décor, bedding, books and magazines, apparel and shoes, jewelry, furniture, office supplies and seasonal products).
Non-branded items.
Tobacco, firearms, gasoline, tires, prescription drugs, optical and photo products and services, or products that require a service agreement such as wireless, automotive or financial products.
How much should you expect back? One frequent shopper reports 2-3% back, via DailyFinance:
Anne Jurchak was part of Walmart's focus group. She said she's been getting back $5 to $7 on her weekly trips to Walmart in which she typically spends $200 to $250. Jurchak has used those savings to buy holiday stocking stuffers and a case for her e-reader.
Keep in mind that like many other savings programs like CVS ExtraCare and Safeway Club cards, this will collect data on you and basically track your spending to your SavingsCatcher account. I personally don't worry about that kind of stuff too much, but FYI.