Motif Investing is a discount brokerage with a twist: you can buy a basket of up to 30 different stocks or ETFs and the entire basket costs just $9.95 a trade. When I first heard of this company, I thought it would be a cool way to build your own custom ETF. It could be dividend income stocks, your own balanced fund of stocks and bonds, whatever. You can start with as little as $250 and they use fractional shares so all your money is invested.
But you could also make a diversified portfolio of low-cost index funds. Motif went one step further and introduced their own Horizon motifs, which come with zero trade commissions as well as no management fees. There are 9 different Horizon Motifs – you pick one of three time horizons (1 year, 5 year, or 15 year) and one of three risk levels (conservative, moderate, or aggressive). Consisting mostly of Vanguard and iShares ETFs, here is the asset allocation for their 15-year, aggressive portfolio:
27% US Stocks (VTI)
17% International Stocks (VXUS)
8% US Real Estate (VNQ)
5% Commodities (GSG)
27% International Total Bond (BNDX)
16% US Total Bond (BND)
Overall, the asset allocation portfolios are pretty similar to those offered by other brokerage firms, mutual fund companies, and "robo-advisor" online portfolio managers. I would note that compared to their competitors' asset allocation models, Horizon Motifs as a whole have a slightly greater allocation to bonds. Usually an "aggressive" long-term portfolio has 70% to 90% in stocks, while Motif has roughly 60%. Their 15-Yr Conservative is ~50% stocks and their 15-Yr Moderate is ~40% stocks. You can adjust the relative percentages of the ETFs inside the Motif, but that will change it to a custom Motif and thus trades will cost $9.95. (I tried.)
I have an Motif Investing account, and here is confirmation that the trade commission is zero and an illustration of how fractional shares work (click to enlarge):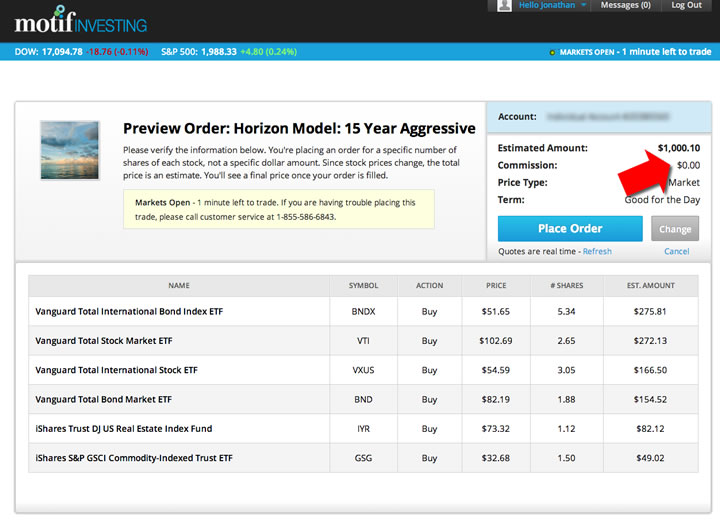 Horizon Motifs can be a great way for beginner investors to get started without getting eating alive by fees. The impact of zero commissions is greatest when your portfolio size is small. For example, paying $10 commission on a $250 monthly deposit is an instant 4% drop in your balance. Through this whitepaper, I found that the Motif is rebalanced based on tolerance bands linked to time and percentage variations. Rebalancing would be free as well since it is usually just charged as one trade.
I don't know anywhere else you can buy a basket of 6 low-cost ETFs for $250 with no commission and have every dollar split into fractional shares so that you are always fully invested and have it rebalanced for you regularly for free. Once you start investing larger amounts down the road, then you can switch to something more customized if desired.
To answer a reader question, Motif is a "real" brokerage firm with the usual $500,000 of SIPC insurance and uses Apex as their clearing firm (same as TradeKing, Betterment, OptionsHouse). They also offer two-factor authentication for security.
Motif Investing does have some new customer promos, but some won't apply if you only make free trades. You can get a $150 cash bonus if you deposit $2,000 and make 5 trades at $9.95 each. They also have a $150 IRA promotion if you transfer over $5,000 in assets.