The following is a guest post contributed by reader Nathan, who recently started driving a vanpool in Chicago which saved him over $350 a month in addition to making a lower environmental impact. Thanks Nathan for sharing your experiences.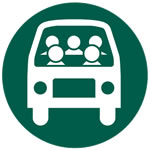 According to the Bureau of Labor Statistics, transportation costs are the second largest U.S. household expenditure after housing costs. In fact, between 2010 and 2011, an 8% rise in transportation spending was the largest percentage increase among all major components, 3.1% above even healthcare. With fuel costs rising for the personal daily driver, and even public transportation costs increasing because of fuel costs and increased demand, I sought the impossible in looking for a way to remove transportation from my budget altogether. I found my answer with vanpooling.
Vanpooling is similar to carpooling. Employees that live and work near one another and share similar schedules can form a group that conveniently gets them between home and work. With a "VANpool", however, a municipality, university, corporation or non-profit organization provides a van for a group of people to use so that nobody in the group has to actually own and operate a personal vehicle. Each rider typically pays a low monthly fare based on distance and number of participants, which covers all costs of the vanpool including fuel, maintenance, insurance, tolls, roadside assistance, and van washes (the actual cost of purchasing the vehicle is often subsidized). And in many cases – here's where MMB readers might get excited – the driver doesn't pay anything!
I started a vanpool in Chicagoland about two months ago. I drive my 2012 Dodge Caravan 50 miles roundtrip each day, leaving the downtown city center where I live for the suburbs where I work. I drive five riders, who each pay $114 each month to Pace (the regional suburban transit provider) for the privilege to ride, and $20 each month to me to pay for parking (I pay a discounted rate of $99/month for parking instead of the $250/month average, a whole other story). The riders end up paying less than they would have in fuel costs alone if they were still driving, and could even consider getting rid of their vehicle altogether.
For the particular program I'm involved with through Pace in Chicago, I pay nothing as the driver and even get 300 personal miles each month to run errands, take weekend vacations, etc. (for free!). I save an hour in commute time each day over the rail/bus commute I used to take. There is a time and hassle factor as a driver that must be considered – first, in order to be a driver I had to attend a one-time full-day driver training session (8 hours); and second, I have to get monthly van washes, do a monthly van inspection (oil, tire pressure, etc.), and submit a monthly report of ridership frequency, all which probably takes an hour or so each month. I think the total hours spent managing the vanpool are well compensated compared to the time and effort it would take maintaining, servicing, and worrying about a personal vehicle. And I've made some connections with some interesting workmates I wouldn't have met otherwise.
A quick Google search indicates that there are similar programs in metro areas around the U.S. There even appears to be a commercial version through Enterprise. I've included a sampling of major U.S. cities with vanpool programs and links below, though a google search of your community (even rural areas and counties) might surprise you with an option local to you.
I realize this particular option isn't available to everybody. You may not find that the hassle of dealing with other riders is worth the savings. But the moral of the story is that there might be alternatives to your current commute that could save you big money, even if you're already taking public transportation. Some other money-saving transportation options you might not know about include:
Using the transit pre-tax benefit. You're probably aware of Flexible Spending Accounts, which allow you to purchase health related items and services pre-tax and save 30% to 40%. But did you know a similar benefit is available that allows you to pay for many forms of alternative transportation and parking options pre-tax and also save 30% to 40%? Like FSA's, employers must decide to offer it, and most large corporations already do; but sometimes they need a push from their employees – our campus with over 4,000 employees will begin offering it this year due to the efforts of a "sustainable commuting committee". And small or mid-size business owners could take advantage of it themselves for big savings, if their situations made public transportation or vanpooling possible – administrative costs can be mitigated through the savings gained in decreased FICA payments. Even better than FSA's, the transit benefit has no annual election or plan year; participants can enroll monthly. There is no mandated "use-it-or-lose-it" provision, and funds can carry over into future dates.
Alternate work schedules or telework. Many corporations and federal and state agencies are beginning to encourage alternate work schedules (e.g. 10 hour days, 4 days a week) and telework options (e.g. working from home two days a week). Although often touted as ways to cut back on energy consumption and greenhouse gas emissions, and reduce necessary workspace and parking, these options can also save employees a lot of money by reducing the number of trips you make to the office. Check to see if your employer would be open to the idea – you may find that they are more likely to give it a try than they were even just a few years ago.
Selected links to communities that offer vanpools:
• Chicago, IL
• Los Angeles, CA
• New York, NY
• Sacramento, CA
• Grand Rapids, MI
• Houston, TX
• Madison, WI
• Charlotte, NC
• Raleigh/Durham, NC
• Seattle, WA
• Snohomish, WA
• San Antonio, TX
• San Diego, CA
• St. Paul/Minneapolis, MN
• Little Rock, AR (image credit as well)
• Nationwide