As I'm about 2/3rds of the way to having theoretically enough money to cover our living expenses, I wanted to take a closer look at the actual mechanics of living off of my investment portfolio.
I'm using a 3% withdrawal rate, which means that for each $100,000 I have, I'm expecting it to grow such that I can withdraw $3,000 a year, adjusted for inflation, for 40+ years (essentially forever). A conservative way to take withdrawals from an investment portfolio is to spend only the dividends and interest while leaving the principal untouched. This is assuming you don't go reaching for yield by buying things like troubled, high-dividend stocks and high-yield junk bonds. As a baseline, I wanted to see how much income my passive portfolio would create with my current target asset allocation: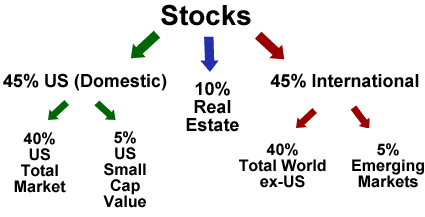 There are many different yield definitions to choose from, but I decided to go with trailing 12 month (TTM) yield as it's based on a year of past distributions. Specifically, the Morningstar yield is found by dividing the sum of the fund's income distributions for the past 12 months by the previous month's NAV (net asset value). Only interest distributions from bond funds and dividends from stock funds are included.
Model Portfolio Yield Breakdown:
| | |
| --- | --- |
| Fund (Ticker) | TTM Yield |
| Vanguard Total Stock Market Index Fund (VTSMX) | 1.76% |
| Vanguard Small Cap Value Index Fund (VISVX) | 1.80% |
| Vanguard REIT Index Fund (VGSIX) | 3.23% |
| Vanguard Total International Stock Index Fund (VGTSX) | 2.4%* |
| Vanguard Emerging Mkts Stock Index Fund (VEIEX) | 1.7%* |
| Vanguard Total Bond Market Index Fund (VBMFX) | 2.66% |
| Vanguard Inflation-Protected Secs Fund (VIPSX) | 2.27% |
| Weighted Distribution Yield (70% Stocks, 30% Bonds) | 2.4% |
3% above inflation may be a lot lower than some people hope/want/need their portfolios to earn, but I think that it remains reasonable number for aspiring early retirees that need their money to last a long time. Right now, investors looking for income are facing both historically-low dividend yields and historically-low bond yields: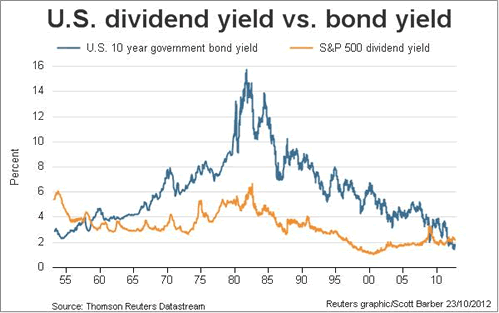 image credit: Reuters
At a 2.4% TTM yield, my current portfolio would come up a little short. Now, I could make a few moves to increase yield without sacrificing too much quality. For stocks, I could invest in a US or International Large Value index and get a higher yield without screening specifically for dividends. This isn't unreasonable, as value stocks have historically outperformed growth stocks over long periods of time. For bonds, you could invest in investment-grade corporate bonds or investment-grade tax-free municipal bonds without venturing into junk bond territory.
As another comparison, the Vanguard Wellington Fund (VWELX) is a balanced fund that's been around since 1929 and has 2/3rd stocks and 1/3rd bonds, with a Morningstar TTM yield of 2.78%.
(* For the case of VGTSX, the stated Morningstar yield of 4.50% is misleading because it is adding up the trailing 12-months of dividends from December 2011 and also September 2010, even though that appears to include all 2011 dividends and three quarters of 2012 dividends. I decided to pro-rate the dividends for an actual estimated 12-month yield of about 2.4%. I did the same for VEIEX.)