A reader recently wrote me asking if there was any drawbacks to maxing out their 401(k) contributions as opposed to keeping the money in a taxable account. This is assuming you already have no debt, adequate insurance policies, and an emergency fund. Since his goal was to retire early, my initial concern was that the money would be stuck there until age 59 ½. (Why is it 59.5 anyways?) If you take money out of your retirement plans before then, you'd get hit with a fat 10% penalty on all withdrawals on top of the income taxes already owed. So perhaps it'd be a good idea to keep a chunk of money in taxable accounts for easy access?
But after some research it turns out that there are some exceptions to this penalty:
401(k) Early Withdrawals
If you have a 401(k), are at least 55 years old, and your employer allows it, you may be able to take out as much as you like without the 10% penalties. This is a case where you might want to keep your money in a 401(k), assuming that you are satisfied with the quality and costs of your existing investments. (You must quit at 55 years old or later, not any earlier. It's a weird rule.)
IRA Early Withdrawals
Otherwise, once you stop working the best bet is to move your 401(k) funds into a Rollover IRA. A subsection of Internal Revenue Code Section 72(t) states that you can avoid early withdrawal penalties by taking "substantially equal periodic payments" (commonly referred to as SEPP or 72t withdrawals) for any type of IRA. The general rules for SEPP are as follows:
You must make the withdrawals regularly, at least once every year.
You must take them for either 5 years or until you reach age 59 ½, whichever is longer. Retiring at 40? You'll need to make them for almost 20 years. Retiring at age 56? You'll need to make them until age 61.
You must wait until these equal payments end before you can start taking unrestricted amounts of money out of your IRAs.
If you decide to do this, you can't change your mind. If you do, you'll owe a 10% penalty retroactive to your first withdrawal, plus interest!
You must also calculate the amount of your SEPP according to three IRS-approved methods: required minimum distribution method, the fixed amortization method, or the fixed annuitization method. Let's say you have a $1,000,000 IRA right now at age 55. Without going into the details here, here are the amounts according to this Dinkytown 72(t) calculator, for a single life expectancy at the current maximum "rate of reasonable return":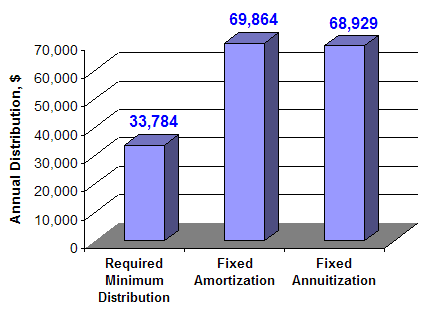 An added twist? If you have (or want to make) multiple, separate IRAs, you can take SEPPs from any or all of them. So in essence, you can withdraw anywhere from 0% to possibly 7% of your retirement balances annually. Naturally, you might not want to take too much out too early lest you run out of dough. But to me, this takes away much of the fear of having a large percentage of my money held hostage in my 401ks/IRA accounts if I decide to retire early.
I still need some huge balances to pull such a feat off though. For example, several studies suggest that a conservative withdrawal rate for a 40-year period is ~4% of one's balances each year. I just need $3 million dollars in balances by the time I'm 55 to take out $120,000 a year (an estimated $56,000 a year in today's dollars), and I'm all set! No problem…
For more information, here is one detailed resource I discovered from the Retire Early homepage.