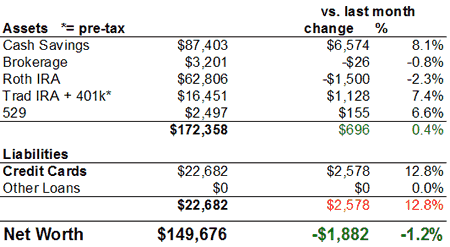 About My Credit Card Debt
Got credit card debt? I sure do. But let me explain – I'm borrowing money from credit cards at 0% interest and investing in a bank account that's earning me 5-6% interest. Result: Free Money! Along with other things, this helps me earn extra side income of thousands of dollars a year. Recently I wrote up a series of step-by-step posts on how I do this. Please do check it out if you are curious. This is why, although I have the ability to pay the balances off, I choose not to.
Commentary
To answer a common question first, yes, this is net worth for two people. We use the "one pot" method of managing partner finances, we don't separate things out by person.
Our net worth dropped! There were a bunch of factors in play, but mainly it's just a superficial wound. One significant change was that as was discussed previously, we stopped listing one of our cars as an asset. It messes up the numbers a bit temporarily, but in the long run it gives us a clearer picture of our progress towards that mythic "financial freedom" we all want.
Lots of big bills this month. Paid our semi-annual auto insurance premiums of about $700. Bought a new luxurious bed, also bought some nice sheets and pillows (from Ross), for a total of about $750. We've also been dining out a lot and spending time with good friends here before we leave.
Our stock portfolio dipped a little over the last month, it feels like a time of uncertainty for the markets in general. Some portfolio changes are coming, but nothing so far. While compiling this net worth update, I noticed that my wife's 401k just jumped by $1,200?! It turns out they did some sort of special mid-year employer contribution, which my wife apparently didn't even know about. Hey, I'm not going to question it 🙂
After all that, we still saved a good chunk of money this month. Our non-retirement funds now add up to $70,419, with total cash at $64,721. See our mid-term and long-term goals explained.
You can see all my previous net worth updates here. Next month is going to be hectic, with a wedding, a trip to visit the parents, the big move, and new jobs!