I've been seeing a lot of media coverage on the increase in foreclosures recently. It's clear that there have been examples of predatory and misleading lending practices, as well as examples of people showing poor financial judgment, although most articles seem to focus on the former. But I couldn't help finding this Wall Street Journal article 'Subprime' Aftermath: Losing the Family Home to be almost amusing. If it was trying to illustrate how sub-prime lenders were evil, it did a really bad job.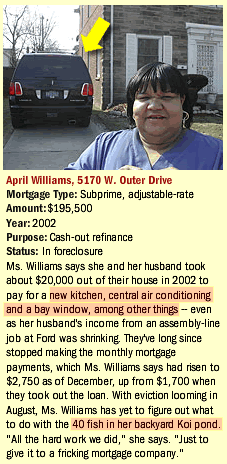 Take Ms. April Williams, who is the main character interviewed for this story and also featured in the box to the right.
"This has stripped us of our whole pride," says April Williams, 47 years old, who has until August to pay off her mortgage or vacate the two-story Colonial at 5170, where she and her husband have lived for 11 years. "There's going to be no people left in Detroit if they keep doing this to them."
They did this to them? Let's see here – they have an unstable job, but still decide to purchase stainless-steel appliances, custom tile, a new bay window, central air-conditioning, a backyard koi pond… and is that a $50,000 Lincoln Navigator luxury SUV parked in her driveway??
For this specific situation, I feel like both sides are in many ways getting their just desserts. Borrowers like Ms. Williams were greedy, bought more toys than they could afford, and now have to deal with the penalties. Their lenders were also greedy in extending them so much undeserved credit, and I'm sure will be losing money in the event of a foreclosure.
As for the big picture, I have mixed feelings. The capitalistic pro-free markets side of me thinks the system will fix itself. Lenders who got hit with all these defaults will tighten borrowing standards accordingly to maintain profits, while continuing competition will keep them honest. A bail-out would just create a bigger mess of things.
At the same time, I do think there should be regulations that require more simplicity and transparency in mortgage lending and real estate transactions. Everyone I talk to says that they are faced with 6 inches of paperwork when closing on a new home, and none of them fully understands it all. Everybody says "just sign". There could be a clause that gives up your first-born child for $19.95 and you wouldn't know it in all that legalese.