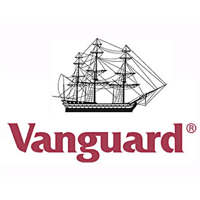 I always keep track of the Vanguard Target Retirement 20XX Funds (TRFs) because:
They are a low-cost, broadly-diversified, "all-in-one" fund that I believe are a good starting point for both beginning investors and all investors that desire simple effectiveness along with professional management.
I have recommended them to my own immediate family, and some of them hold Vanguard TRFs as a significant chunk of their retirement portfolios. I feel a responsibility to make sure they remain solid investments.
I view them as an indicator of what Vanguard executives think is the optimal asset allocation mix for most people.
For a while now, one of the primary "cons" of Target Retirement Funds was that it would be much cheaper to buy the individual component ETFs yourself. You could build your own simple portfolio with only three ETFs – VTI (US stocks), VXUS (Global non-US stocks), and BND (US Bonds) at any brokerage firm. Your combined annual expense ratio would be about 0.05% (5 basis points). Yet, the Target Retirement Funds line-up currently charges between 0.12% and 0.15%. You could sign-up for the Vanguard Digital Advisor Services and and only pay 0.20% "all-in" (0.15% for the advice plus 0.05% from ETFs).
Vanguard recently announced they were "streamlining" the Target Retirement Fund line-up and lowering the expense ratio to 0.08% (8 basis points) for each TRF, with an estimated completion date of February 2022. That would be a 47% fee reduction for the stock-heavy TRFs, and a 33% cost reduction for the bond-heavy TRFs. Vanguard estimates $190 million in aggregate savings in 2022 alone as a result of this cost reduction.
As a result, Target Retirement Funds are again safely amongst the cheapest "advised" option for individual investors. By this, I mean that an individual investor decides how much money to put in and an algorithm makes the investment decisions. You don't have to worry about picking the asset allocation, adjusting as you age, remembering to buy/sell different ETFs every month, enter limit orders, rebalance, and so on. You just send them $100, $500, whatever and it gets put to work. This is essentially the same idea as robo-advisors like Wealthfront, Betterment, and other "guided investing" services. Fidelity and Schwab now also have very low-cost index-based target-date funds.
(If you hold Vanguard TRFs in your 401k or other employer-sponsored tax-deferred account, you may own the institutional shares with an even lower expense ratio.)
There will also be a new fund option, called the Vanguard Target Retirement Income and Growth Fund/Trust. This is a fund designed for those in retirement but would like a higher (50%) stock allocation due to various reasons (greater desire for growth, less need for income). This new option would work well for wealthier investors that don't need/expect to spend it all down and can thus take on more risk. The default Vanguard Target Retirement Income Fund/Trust will remain with its 30% stock allocation.
Here is the current glide path for Vanguard TRFs. For younger investors, TRFs hold 90% stocks and 10% bonds.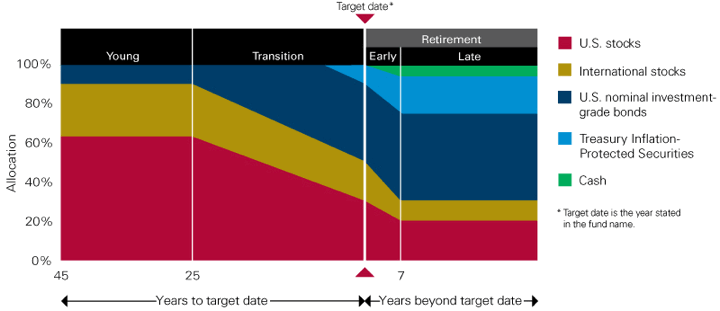 For reference, here is a brief history of the major tweaks to Vanguard Target Retirement fund portfolios:
2003: Target Retirement 20XX Funds are first introduced.
2006: Overall total stock exposure is increased slightly for various Target dates. Emerging markets stocks are added to certain Target dates with longer time horizons.
2010: International stocks as percentage of total stock allocation is increased from 20% to 30%. Three of the underlying funds (European Stock Index, Pacific Stock Index, and Emerging Markets Stock Index) were replaced by a single fund, Vanguard Total International Stock Index Fund.
2013: International bonds are added as 20% of the total bond allocation. Vanguard Short-Term Inflation-Protected Securities Index Fund replaced the Vanguard Inflation-Protected Securities Fund for certain Target dates with shorter time horizons.
2015: International stocks as percentage of total stock allocation increased from 30% to 40%. International bonds as percentage of total bond allocation increased from 20% to 30%.