With Vanguard recently launching their new bond ETFs, I can almost reconstruct my entire portfolio of Vanguard mutual funds using their equivalent ETFs instead. While they won't work well for everyone, I am glad that Vanguard is offering this option to the public. Here are some index mutual funds and their ETF counterparts: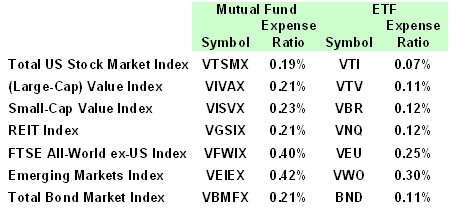 The ETFs certainly have an advantage in expense ratio if you don't have the $50,000 needed to buy the Admiral shares of each fund. On average, the savings is 10 basis points, or 0.10%. That's $10 a year on a $10,000 account, or $100 a year on a $100,000 account. In addition, the ETFs allow you to get around the minimum initial investments, as well as avoid the $10 per-fund low-balance fees, $10 per-fund IRA fees, and the purchase/redemption fees of many of their mutual funds.
In the disadvantage department are possible premium/discounts to NAV, the bid/ask spread, and commission costs. Vanguard even offers a cost-comparison calculator that takes many of these things into account.
The only ETF missing for me is their International Value fund, but I could replace that with the WisdomTree International SmallCap Dividend Fund (DLS).
Free Trades + ETFs = Cost-Saving Opportunity?
Right now, Zecco.com offers free trades with an account value of $2,500, while Wells Fargo offers free trades with an account value of $25,000. (Bank of America's offering stinks, so I'm ignoring it.) Buying these ETFs with free trades would take away much of the traditional advantage of mutual funds.
Before I would switch to ETFs, my concerns include whether these brokers can sustain giving out free trades, and how good the customer service is. If they fail, would I keep paying slightly higher commissions on ETFs, or sell them all and go back to mutual funds? Something to ponder.
(You know what? I just figured out that Zecco stood for Zero Cost Commissions. No, I'm not the sharpest tool in the shed.)