Over a year and a half ago I shared how I juggled my bank accounts to maximize interest. It was the best I could do then, although it was a bit annoying as transfers between banks still took a couple of days.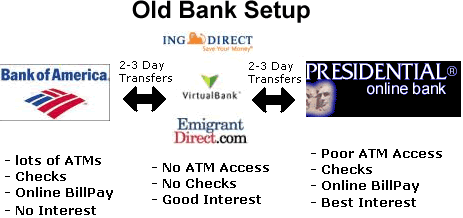 My current set up now involves fewer banks, but I feel it is also both more convenient and earns higher interest. However, whether or not it would work for others depends on their geographic location.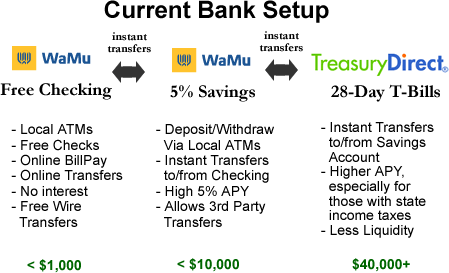 Washington Mutual – WaMu has a strong branch presence in my area, and there are also ATMs in the grocery stores. Since they started offering their Free Checking and 5% Savings account combo (must open online; you won't find this advertised in any branch), I have started using it as my primary account due to the combination of convenience, decent interest, and lack of fees.
I can keep a minimal amount of money in the no-fee checking account for my daily cashflow needs, and then a larger chunk can be kept in the savings account to cover the larger monthly bills paid via scheduled online BillPay transfers. If I need to write a big check or send a wire transfer, I can just move money over from the savings account. Also, I still receive a lot of checks so I like the ability to deposit them directly into my savings account. Overall, this keeps a good chunk of my money instantly accessible yet earning decent interest.
For reference, see my WaMu Free Checking + 5% Savings review and how to fund them directly with existing WaMu accounts.
28-Day Treasury Bill Ladder – Again, this may not work for others because the main draw of T-Bills is that the interest paid is exempt from state and local income taxes, which increases their equivalent yield. For those without state income taxes, they have been yielding around 5.1%-5.3% APY. However, for those that do have such taxes, the equivalent yield is significantly higher. Mine is closer to 5.8%-5.9% APY. Thus, the money I can't see myself needing in less than 28 days (most of it) is kept here.
In addition, I can link TreasuryDirect to my WaMu savings account, so there is no interest lost during transfers. The money is invested immediately into a Treasury Bill upon withdrawal, and upon maturity the money is immediately deposited back into my savings account.
For more information, please see my entries on converting Treasury Bill auction results to equivalent bank interest rates, and how to build a T-Bill ladder.