Update September 2023: There is an updated offer with promo code 2023SEP, but only the direct deposit bonus for the Checking is worth considering if you can swing it. The savings bonus is not worth it when you consider that it requires you to maintain a high cash balance while earning minimal interest, you'd be better off just putting it into a high interest savings account.
The following post is about an expired offer, as US Bank tweaks their bonus details nearly every month, but many considerations may still be useful: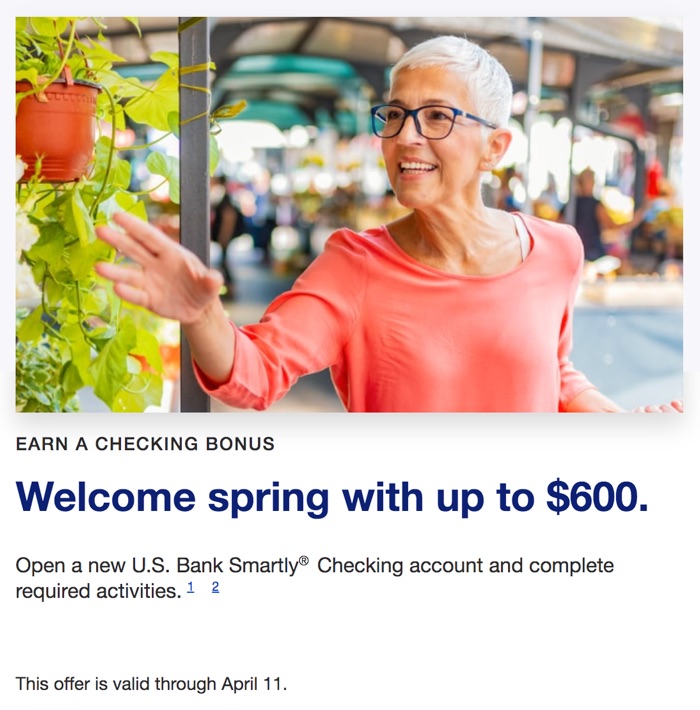 US Bank has a up to $600 new checking promotion when you open a Bank Smartly Checking account with $25 minimum and complete the following within 90 days:
Enroll in the U.S. Bank Mobile App or online banking.
Complete two or more direct deposits.
Your bonus is determined by the total amount of your direct deposits in those 90 days:
Earn $200 when your direct deposits total $3,000 to $5,999.99.
Earn $400 when your direct deposits total $6,000 to $9,999.99.
Earn $600 when your direct deposits total $10,000 or more.
Must open by April 11th, 2023 and use the promo code 2023MAR. This offer may be restricted to those states where US Bank has a physical branch presence. In addition, sometimes people outside this footprint may be allowed to open an account if they have other US Bank products.
You may still be considered a "new" account even if you had a US Bank account years ago:
Offer is not valid if you or any signer on the account has an existing U.S. Bank consumer checking account, had a U.S. Bank consumer checking account in the last two years, or received other U.S. Bank bonus offers within the past two years.
The Smartly Checking account has a $6.95 monthly fee which that is waived with any one of the following:
Your combined monthly direct deposits total $1,000 or more.
You keep a minimum average account balance of $1,500 or more.
You are age 24 and under.
You are age 65 and over.
You are a member of the military.
You hold an eligible US Bank credit card
You qualify for one of the four Smart Rewards® tiers (Primary, Plus, Premium or Pinnacle).
A pretty large bonus if you have enough direct deposits in that 90 days window.