I couldn't help but notice that two mortgage crisis petitions that people have sent me info about recently are pretty much in direct opposition of each other. Of course, both claim to represent the average middle-class citizen.
No Intervention
First up is the petition at AngryRenter.com. Their general message is that they are tired of both the borrowers and lenders who have contributed to these inflated housing prices. As I understand it, they think any intervention will simply keep housing prices artificially high, preventing existing renters (32% of households) the ability to buy their own home. Many are those that could have gotten no-doc, interest-only, zero down loans, but did not. They want no governmental intervention or ""bailouts". I thought this chart was interesting: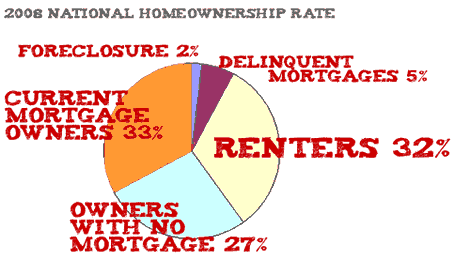 7% of folks are either delinquent on their mortgages or in foreclosure? That's seems like a lot, I wonder what a "normal" percentage is.
Lots of Intervention
The next one is by the Neighborhood Assistance Corporation of America (NACA). They place the blame squarely on the mortgage lenders, and want lots of governmental intervention to borrowers with adjustable-rate mortgages. They are very angry at the money being spent to keep Bear Stearns afloat. Specifically, the want the government to:
Stop any future interest rate resets.
Reduce the current interest rates to the initial rate.
Impose a moratorium on foreclosures.
Require restructuring of all troubled mortgages to an affordable long-term mortgage payment.
I am guessing they want the lenders to cover the cost of doing all of this.

Loading ...