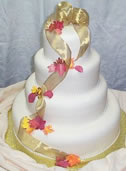 It's wedding season again, and we have a variety of weddings coming up from a mix of close friends, not-so-close friends, relatives, and co-workers. This is probably not polite conversation, but hey, I'm all about discussing otherwise taboo financial topics. So, when deciding on how much to spend on a wedding gift, what factors do you consider?
How Close Are You?
This is simple – do you give more to your closer friends or family? Or are all weddings equally beautiful?
How Fancy Is The Wedding?
This the "at least cover your meal" philosophy. With all this talk about frugal weddings vs. monster weddings, it is clear (after paying for our own wedding) that some weddings have cost about $50 per person, while others will have cost $200 per person. As a guest, do you feel obligated to give a bigger gift when you know the food and setting are more extravagant?
I'm kind of mixed about this philosophy. So if you have two equally close friends, and one decides to throw a mega-bash destination wedding with filet mignon while the other friend has a small gathering in their backyard, you are supposed to give more to the former couple? This also would suggest that if you are not able to attend, then you can give a smaller gift. Hmm.
Your Financial Situation?
Now that we are labeled as a "successful professional couple", is there more pressure to give a bigger gift? If a person is currently going back to school, are unemployed, or have chosen a career path with a lower assumed salary, do you feel that they should be able to give less?

Loading ...