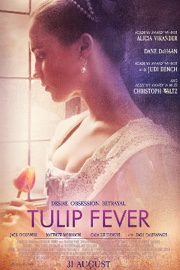 If you've read enough investing books, you know about the "Dutch Tulip Mania" of the 1600s (Wikipedia) and how it was considered one of the first documented economic bubbles. At one point, 12 acres of land were exchanged for a single tulip bulb.
I was catching up on my Bloomberg magazines and saw this: Finance Geeks Will Love This New Movie About the Tulip Bubble. The official trailer would indicate it's mostly a romantic drama, but the article suggests that it weaves in the tulip mania, the "nature of money", and what "love and money have in common":
The critic reviews weren't that great, so perhaps it will end up on Amazon Prime Video or Netflix soon enough.
I believe I first read about tulip mania in the Burton Malkiel classic A Random Walk down Wall Street as an example of the Greater Fool Theory, where you buy something for a high price not due to its intrinsic value, but solely because you think someone else will buy it from you for an even higher price. (Does this apply to iPhone X pre-orders?)