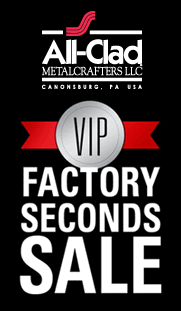 All-Clad cookware is known to be very high quality, but also quite expensive. If you cook regularly, you can justify the high price with the fact that the stainless steel pots and pans will essentially last forever. (I would skip the non-stick stuff, even anodized won't last forever.)
HomeandCooksales.com is how All-Clad unloads their products with slight cosmetic blemishes. All sales final. However, you still get the same limited lifetime warranty as if you'd bought them at Williams-Sonoma. Really, who cares about dents and scratches when it comes to cookware?
The products which are for sale on this site are FACTORY SECONDS. They have minor cosmetic scratches and/or dents. There are no defects which will affect the cookware's performance. For this event, all sales are final, no returns will be accepted.
The next big sale is 11/6-11/8 but you can see some items available now with the passcode ACVIPNOV17. To get future passcodes and reminders, send an e-mail to allcladvipfactorysale@groupeseb.com to get on their mailing list.
I would still compare prices before purchasing. Amazon has been known to make price drops in response to these sales, and those items are not factory seconds (and also accept returns). You can also get 5% back at Amazon with an Amazon Prime credit card or Discover It card this quarter.
I've been slowly accumulating my "permanent cooking portfolio" of All-Clad pots/pans and Le Creuset/Staub dutch ovens. I recommend buying some Bar Keepers Friend as it helps wash off the stuck bits on stainless steel. Also good on bath tubs, kitchen sinks, and stove tops.