Buy vs. rent? It's still a tough question for a lot of folks. According to real estate website Trulia.com, one rule of thumb is to divide the median list price compared with the median rent of similar properties. If the price/rent ratio is over 20, you should rent because buying is too expensive. From 16-20, it can be a grey zone, depending on a variety of factors. If it is under 15, you should consider buying. Very rough, but it's a place to start.
Trulia has calculated this ratio for the two-bedroom apartments, condos and townhomes listed in their database for the largest 50 cities in the US, and illustrated them on an interactive chart. There are a few options to play around with. (Click to visit and enlarge.)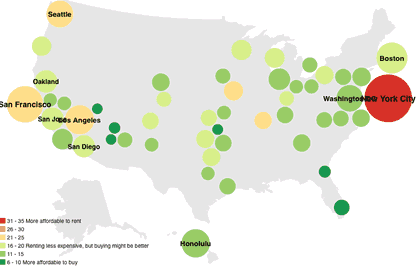 It looks like big red New York City is still more affordable to rent, with more cities being pockets of green. Supposedly, in 72% of major cities it is now more affordable to be a homeowner. I guess we'll see if they're right. I just added some nice vinyl fencing to my money pit home sweet home. Specific cities are highlighted in this related CNN Money article.