During recessions, interest in graduate school rises as people lose their jobs or otherwise decide to go back to school for better prospects. Are you thinking about law school? I've thrown the idea around, as I think estate law would be a growth area. Well, check out these stats from the National Association for Law Placement (NALP) first.
The NALP found the national median starting salary for full-time law jobs for the Class of 2009 was $72,000 and the average was $93,454. After adjusting for the fact that many smaller law firms don't report salary details (and also tend to pay less), it found the adjusted average salary to be $85,198. But you should also consider the distribution of the salaries as well, shown below.
Distribution of Reported Full-Time Salaries — Class of 2009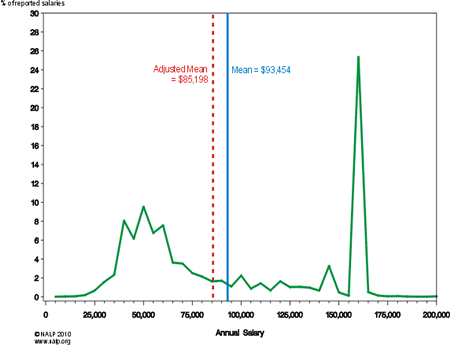 From this Law.com article:
That's because salaries are clustered in two areas — a phenomenon known as the bimodal distribution curve. One cluster is in the $40,000 to $60,000 range and the other around $160,000. The lower range tends to include attorneys in public interest and government jobs, while the higher cluster includes associates at large law firms.
This means that after three years of law school and probably accumulating more student debt, lots of new grads are still far away from six-figure salaries. For the Class of 2009, 1 out of 4 are working temporary jobs. Going to law school primarily for the money can be a long road.
What about after the entry-level? This article quotes the Department of Labor as stating that the median lawyer makes $113,000 per year, and those in the 25th percentile make $76,000 per year. Certainly, many people still make solid livings as lawyers. I know a lot of other JDs that are doing things unrelated to law as well, and most of them are doing alright. However, I don't know if they would have still gone to law school again if given a redo.