With doing our taxes properly on our minds, what are the chances we'll get caught if we don't? Well, there are several ways that the IRS can detect if your return is suspicious, especially if your inputs don't match up with their W-2 and 1099 records.
Here are the number of IRS audits and the respective probabilities for individuals and businesses during 2010. Large corporations and wealthy individuals have the highest chance of getting audited, which makes sense since they offer the largest potential payoff. If you are an individual making under $200k a year, then your overall chances are 1 in 100. However, I'm sure if your tax return is clean and you didn't claim to donate $10,000 in used clothing, your actual odds are even better.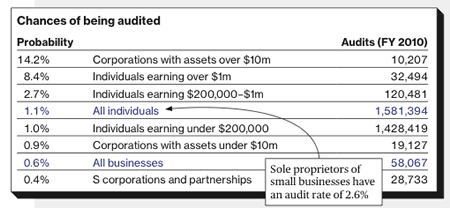 Source: IRS, Businessweek
Anyone out there get audited last year?