The S&P Case Shiller Home Price index was updated yesterday with data through November 2010. Here is the press release [PDF]. Here is the housing price index from 1987 to November 2010. (Click to enlarge.)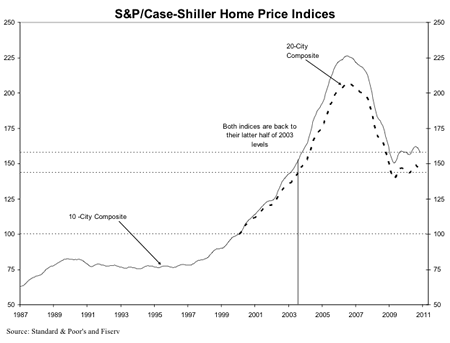 I don't look to closely into these things or like to make crystal ball predictions, but I like to check in occasionally to see what's happening. It looks like we are still hovering around 2003 price levels.
Selected quotes from the press release:
Data through November 2010, released today by Standard & Poor's for its S&P/Case-Shiller1 Home Price Indices, the leading measure of U.S. home prices, show a deceleration in the annual growth rates in 17 of the 20 MSAs and the 10- and 20-City Composites compared to what was reported for October 2010. The 10-City Composite was down 0.4% and the 20-City Composite fell 1.6% from their November 2009 levels. Home prices fell in 19 of 20 MSAs and both Composites in November from their October levels.

In November, only four MSAs – Los Angeles, San Diego, San Francisco and Washington DC – showed year-over-year gains. The Composite indices remain above their spring 2009 lows; however, nine markets – Atlanta, Charlotte, Chicago, Detroit, Las Vegas, Miami, Portland (OR), Seattle and Tampa – hit their lowest levels since home prices peaked in 2006 and 2007, meaning that average home prices in those markets have fallen even further than the lows set in the spring of 2009.