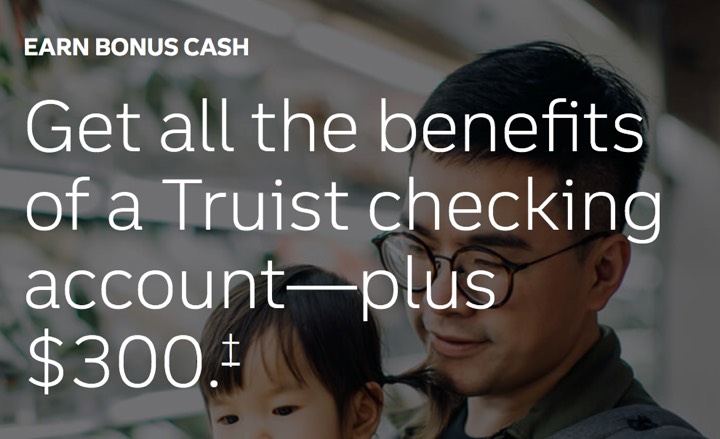 Truist Financial formed from the merger of BB&T and Suntrust Banks, now roughly the 10th largest US bank with branches in 17 states and DC. Trust has a $300 new checking bonus using promo code TR2CHK22 for new checking customers that live within a state in their branch footprint: AL, AR, GA, FL, IN, KY, MD, MS, NC, NJ, OH, PA, SC, TN, TX, VA, WV or DC. I don't always list bonuses that aren't nationwide, but this is a relatively big bonus from a decent-sized bank. Thanks to reader Clark for the heads up. Here are the steps:
Open an eligible Truist checking account (Dimension, Bright, or Fundamental Checking). $50 minimum opening deposit.
Receive at least two qualifying Direct Deposits totaling $500 or more within 90 days of account opening.
After we verify your direct deposits, we'll drop $300 into that account within four weeks.
This offer is good until July 14, 2022.
The easiest way to avoid the monthly fees of the checking accounts while satisfying the bonus requirements is the Bright Checking account, since its $12 monthly fee is also waived when you have a $500+ monthly direct deposits (or you can maintain at least a $1,500 average balance).
It's always tricky to say what exactly any bank will count as a direct deposit if you have trouble with redirecting your employer payroll, as their rules may change over time. But in general a funds transfer from a brokerage account like Fidelity, Schwab, Vanguard, or TD Ameritrade has a better chance than one of the popular online savings accounts. Makes sense to me as my income could very well be interest and dividends from my brokerage account.
Fine print:
Clients with an existing personal checking account or who have closed a personal checking account on or after 4/1/21 with BB&T or SunTrust now Truist and/or Truist are not eligible. Account holder must be 18 or older at the time of account opening. Truist employees are not eligible. Offer available only to US residents with a valid US taxpayer identification number. The qualifying checking account must be opened in a Truist branch in one of the following states, or online, and have a mailing address in: AL, AR, GA, FL, IN, KY, MD, MS, NC, NJ, OH, PA, SC, TN, TX, VA, WV or DC.