If you have a mortgage, do you know when it will be paid off? Have you though about paying extra and making that day come earlier? The commonly discussed biweekly accelerated payment plan is the same as making one extra monthly payment each year and knocking off about 5-6 years from a normal 30-year mortgage. For example if your mortgage is $1,200 per month, you would pay an extra $1,200 a year ($100 per month.)
Here's the effect of one, two, and three extra monthly payments per year on mortgage paydown. The specific numbers are for a $480,000 mortgage at 5% fixed for 30 years, but the general effect for all mortgages is similar.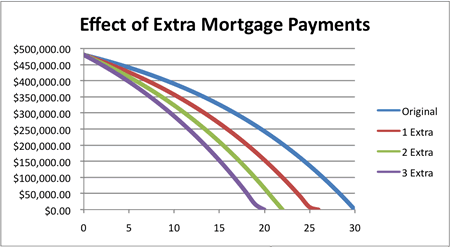 As you can see, the more you pay down, the smaller the effect because you give yourself less time to compound the interest saved. If you pay down your mortgage principal, you are effectively earning your interest rate. For example, if you have a mortgage at 5% interest with 25 years left and pay an extra $5,000 towards principal, that's basically the same as having that $5,000 earn 5% for 25 years (taxes tend to wash out if you assume mortgage interest is tax-deductible).
Good Investment?
But is earning 5% a year for 25 years a good deal? First, you must remember that this is virtually a no-risk 5%. A fair comparison would be with bonds backed by the US government. Let's look at how the current U.S. Treasury bond yield curve.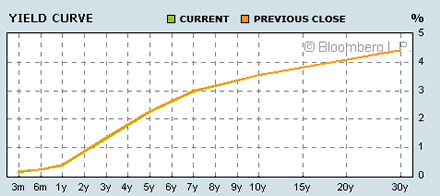 We see that it's currently yielding about 4.4% for a 30-year bond and 3.8% at 15 years. Keep in mind that federal bond interest is exempt from state income taxes, which will boost the effective yield for certain residents. For me, it is nearly a wash at the 30-year mark. However, if I pay down my mortgage as fast as I plan to, I'll only have about 15 years left. Earning 5% for 15 years by paying down my mortgage is better than earning 3.8% in a Treasury bond.
Now, people will say that they can easily earn more than 5% over 30 years. Others go even further and believe that you should never pay off your mortgage. This almost always means taking on more risk, whether in the stock market or wherever. While we should definitely take some risks in our investments overall, 2008 should remind us that taking on extra risk is not something to be taken lightly.
Another thing to consider is that you'll be losing liquidity on the money being put towards your mortgage, as it can be costly to extract without selling the house. But I lose liquidity on everything I put in a Roth IRA and 401(k) as well. As long as I keep enough liquidity in my emergency fund or elsewhere, I don't worry about it.
Flexibility
Now, there is a good possibility that at some point I will be able to get greater than 5% in a very low-risk investment, most likely in a time of high inflation. In that case, I'll simply buy that alternate investment, keep the difference, and stop making extra payments during that time.
I'll also have flexibility in other areas. If I move early, I'll be earning 5% for even less than 15-years. If I decide to rent out the house, I can possibly refinance for a lower mortgage payment over a longer period for cashflow reasons.
Execution
Basically, as part of the big picture of your finances, paying extra can make sense. My mortgage is already automatically withdrawn from my checking account each month. So far, I've been making my extra payment manually in a lump sum by writing a check. I haven't made my payment this year, and I am debating whether to switch to a constantly higher monthly payment instead. My bank allows me to make extra payments towards principal each month on an automatic basis for free. One less thing to worry about.