Another non-mainstream book that I've been reading is Fail-Safe Investing by the late Harry Browne. His conservative investing philosophies appear to have initially been in vogue during the 1980s, a period of high inflation. These days, with stocks earning basically nothing over a decade, it seems to be making a comeback. In the book, he recommends having two portfolios. For money that you will need for things like retirement, you should create a Permanent Portfolio. For money that you won't need, you can keep a separate Variable Portfolio that you can speculate with.
The Permanent Portfolio
In general, Browne does not believe it is possible to predict the future, and trying to do so is futile. Therefore, he went out to design a Permanent Portfolio that maintains your purchasing power over all time horizons, both long and short, and also independent of future market conditions.
Here are the four asset classes he believes in, which correspond with four possible modes of the market: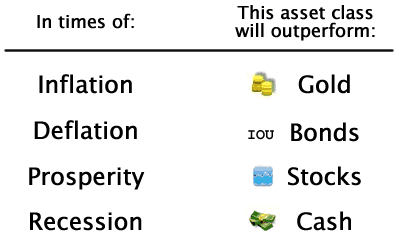 The idea is that no matter what is happening, at least one of the four areas will be doing well, and probably well enough to create a positive total return. For example, in extreme inflation both stocks and bonds might be doing bad, but gold will likely be doing great. His proposed asset allocation is simply an even split between them: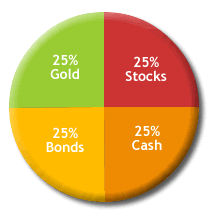 From 1970-2003, according to his website, this mix of asset classes has earned about 9.5% annualized, with a lot less volatility than I would have guessed. This is before expenses.
Permanent Portfolio Mutual Fund (PRPFX)
There is also a managed mutual fund that follows this strategy, although not exactly. It is run by the Permanent Portfolio Family of Funds and the ticker symbol is PRPFX.
Very recently it hasn't been doing as well. The one-year trailing return is -20.60%, while the Vanguard S&P 500 Index fund has a trailing return of -47.50%, and the Vanguard Target Retirement Income fund has a trailing return of -16.90%. But over the last 5 and 10 years, the fund has beaten out most balanced mutual funds of stocks/bonds.
Food For Thought
I'm not advocating this approach by any means, but I found it intriguing for a variety of reasons. First, it still somewhat follows modern portfolio construction techniques by diversifying across multiple asset classes that are not strongly correlated with each other. Most portfolios these days are only split between stocks and bonds. The stocks part may be split many ways (small cap, international, etc.), but with correlations increasing across the board, that hasn't really helped add much diversification. Maybe we all need more cash and direct inflation protection.
Second, the Permanent Portfolio is still a passive investment style that does not try to predict the future, time movements in and out of the market, or pick the best mutual fund or hedge fund manager. No stock newsletter or trading systems. You just rebalance across the four broad asset classes if they get lopsided.
There are some extreme notes of caution in his writing as well. For example, the gold is recommended to be kept in physical form, and outside of the United States. The idea being that if our dollar (fiat currency) fails, the U.S. government may also be in trouble. Gold and other property might be confiscated. Browne thinks everyone should have a foreign bank account. (My biggest hurdle is buying gold, personally. I'd rather invest in a commodity like oil or even rice than a shiny soft metal.)
More Information
There is some good discussion on this topic in this Bogleheads post, and the Crawling Road blog has several posts exploring this as well.