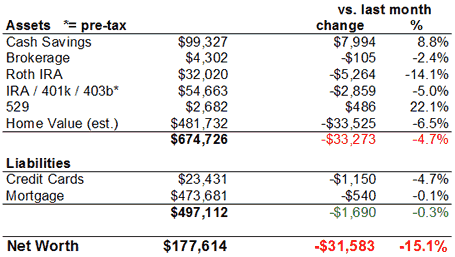 Time for another super-happy-fun net worth update…
Credit Card Debt
For newer readers, don't worry. In the past, I have been taking money from credit cards at 0% APR and immediately placing it into high-yield savings accounts or similar safe investments that earn 5% interest or more, and keeping the difference as profit. I even put together a series of step-by-step posts on how to make money off of credit cards this way. However, given the current lack of good no fee 0% APR balance transfer offers, I am just waiting to pay off my existing balances.
Retirement and Brokerage accounts
Unless you've been completely devoid of human contact for the last few weeks, you know the market is in the dumps. I really don't have much market commentary to make, besides the fact that I still intend to keep investing. I've been trying to cut back on the CNN/CNBC-types of financial news actually and focus more on things I can change, which as a result has helped keep me a bit more optimistic.
Cash Savings and Emergency Funds
Our emergency fund has increased a bit, but this snapshot was taken before we each put $5,000 into our 2008 IRA contribution. So really it remains at about a year of our current expenses.
Home Equity
This is where most of this month's drop comes from. I used the same internet valuation tools as before – Zillow, Cyberhomes, Coldwell Banker, and Bank of America (old version) – but while most of them continued their gradual decline, the Coldwell Banker estimate dropped by over $140,000 in one month! After taking off 5% to be conservative and 6% for expected real estate agent commissions (11% total), the overall average estimate dropped by $34k. Well look at that, I am nearly "underwater" on my house despite putting 20% down a year ago. Oops.