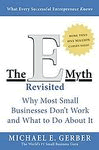 I bought The E-Myth Revisited: Why Most Small Businesses Don't Work and What to Do About It by Michael Gerber at a outdoor market because it was a finance "bestseller" and I'd seen it on a few reading lists. It's been sitting on my bookshelf since (along with many others…), but once I picked it up and read a chapter, I went ahead and finished over the next two days.
Why Businesses Fail
The "E-Myth" stands for the Entrepreneurial Myth, which I'll paraphrase as the belief that all a successful business needs is a hardworking, skilled, fearless entrepreneur. When we think successful small business, we think of Bill Gates or Richard Branson of Virgin. Is it really that simple? 40% of small business fail within one year. 80% of them fail within 5 years.
This book states that, in reality, a successful business needs three roles to be fulfilled:
a technician which understands the technical aspects of the business,
a manager which plans and organizes, and
a entrepreneur who provides the vision and energy.
You might think you have all of these characteristics already, but these roles are often in conflict with each other. Most businesses start out with only one role really filled – that of the technician. A plumber starts a plumbing company. A baker starts a bakery. A graphic designer starts a design shop. Usually, the motivation is that they don't want a boss. The end up have a poorly trained boss – themselves.
When things get hard, usually the technician wins out. The perceived solution is to work harder, do everything by yourself, so that you can "do it right". This is where many businesses start to fail. Now, if you're really stubborn and hardworking, you can make this stretch out for a long time. You'll also be really tired and unhappy.
I actually see this first part of the book as separate from the next part. It teaches you to look at how you are running your businesses. Are some of the roles being too strong, or being neglected? The manager tends to micromanage, and the entrepreneur tends to be the frustrated dreamer.
The Solution
Okay, so now what? How do you take your business to the next level?
Gerber says to look at the franchise model, and uses McDonald's as an example. Don't focus on the fact that you may hate the food there. The true power of McDonald's is that every single aspect of the business was broken down step-by-step and laid out that a random person off the street could "read the manual" and open up their own McDonald's restaurant. Where to locate the restaurant. The layout of the kitchen. The menu. How each hamburger is ordered, stored, cooked, assembled, and finally delivered to the customer.
What's your system? If you were to train a reasonably smart person without any knowledge in your field, how would you break down your business to them? What is the unique value proposition that you offer, and how do you achieve it? What does each roleplayer do? As the saying goes, "Explain it to me like I'm a 10-year old."
Recap
I view this book as "big picture" type of book that will definitely get you thinking differently about your business and business goals. Since it is also relatively short and easy to read, I would recommend it to anyone who wants to work in a small business, or is already working in one. (It's also really easy to find at the library or used for cheap – try Amazon or Half.com.)
The book is definitely more applicable to a small business where you plan on one day being more "hands off", like a restaurant, a store selling widgets, or a big design agency. But even for the many people out there who are perfectly happy being a one-person show, you can still apply the concepts of this book. You can break yourself down into what your special roles or tasks are. Write it down. You may not have ever thought of yourself in this way. Then you can focus on those areas, and either get rid of or outsource the tasks that you don't need.
Now, some critics will call this book common sense from a self-appointed guru. In this way, I feel this book is a bit similar to Rich Dad, Poor Dad by Robert Kiyosaki. I didn't really like the rest of his books, but the idea that you should buy assets that grow instead of liabilities like cars or gadgets can be helpful. But reading it was definitely a net positive for me, as was reading The E-Myth Revisited. Both are not the best writers out there, but still manage to convey their message.