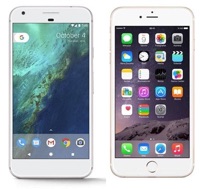 (Update 3/31: T-Mobile's 2 unlimited lines for $100 now no longer includes free HD video and 10 GB of LTE hotspot data.)
Competition is good. Without the popularity of the T-Mobile unlimited data plan, we wouldn't have the reluctant, new Verizon Unlimited data plan. In turn, Verizon's new plan features made T-Mobile improve their deal to include HD video streaming video and 10 GB of LTE tethered hotspot data. In addition, starting 2/17, T-Mobile is running a special promotion of 2 lines with Unlimited data for $100 with taxes and fees included. If you assume $5 on monthly taxes and fees, that works out to $45 + $5 taxes per line. This is nice if you're a 2-line household like me and are unable to take advantage of the 4-line deals. T-Mobile is effectively $35 + $5 taxes per line if you have 4 lines. You can get these offers online or by calling 1-855-407-3034.
Here is a comparison graphic of the T-Mobile and Verizon Unlimited plans as of 2/17/17. Although created by T-Mobile, I found it fair enough. Adding in an estimated $5 per line in taxes and fees is even low in some geographic areas.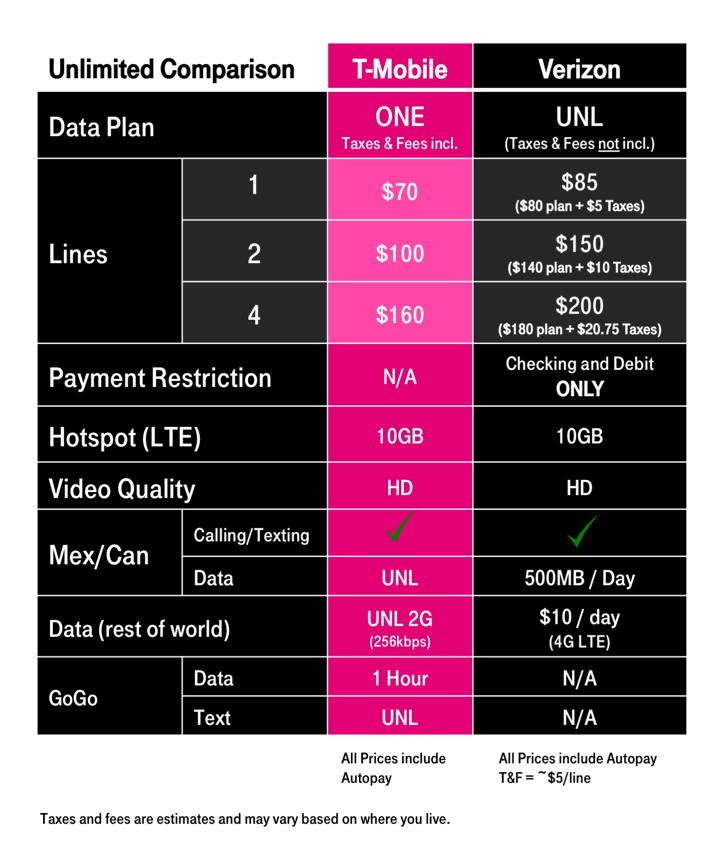 The final comparison point remains network quality (coverage, reliability, and speed). Although T-Mobile touts their network availability is within 2% of Verizon according to OpenSignal, this still remains a local issue. If T-Mobile doesn't have coverage in your living room or in the middle if your commute, you don't care about the rest of the network.
Premium features with a smaller price gap. Usually the "frugal" plans I talk about are MVNOs, but these plans have features that most MVNOs don't have like:
Free voice roaming. For example, the unlimited T-Mobile plan will let you roam on AT&T GSM networks in rural areas where they don't have voice coverage. Verizon also offers voice roaming onto other networks in areas where they don't have coverage.
4G LTE hotspot tethering. Most MVNOs either ban tethering or charge extra, including Cricket and Straight Talk.
Unlimited high-speed data without throttling. T-Mobile will "network de-prioritize" your data after you use 28 GB in a single cycle, while Verizon will do the same at 22 GB. Basically, if the network is really busy at a specific point in time and you have exceeded those limits, your data speeds may go down. This is different than the "throttling" that other MVNOs do, for example an always-on speed limit of 128 kbps.
For travelers, T-Mobile also includes unlimited international text and 2G data in over 140 countries. While some MVNOs have poor customer service and support via e-mail only (no phone number), the major 4 carriers will at least have humans via 1-800 number.
Bottom line. T-Mobile and Verizon have both improved their Unlimited plan features and lowered the prices recently. While they still cost more than MVNO alternatives, they also offer a few premium features like hotspot tethering that MVNOs usually don't include. You'll have to decide if the premium features are worth it at these new price points.