As a follow-up to my previous post on historical inflation (10-year rolling averages), how do periods of high inflation affect safe withdrawal rates for retirement portfolios? I reference a paper about Sustainable Portfolio Withdrawal Rates During High-Inflation Periods by Gerstein Fisher research, but in the middle of writing this post the source document and the entire GersteinFisher.com domain went down. (Update: Here it is on the Wayback Machine. Thanks to reader Peter for the link.)
Planning for the future with 50% stocks and 50% bonds is tricky! The chart below shows how widely a portfolio's value can vary depending on your start date. The model portfolio is 50% broad US stocks and 50% US bonds. Here's what $1,000,000 starting in 1929 vs. 1961 vs. 1975 would have performed with a 4% withdrawal rate and 3% annual inflation: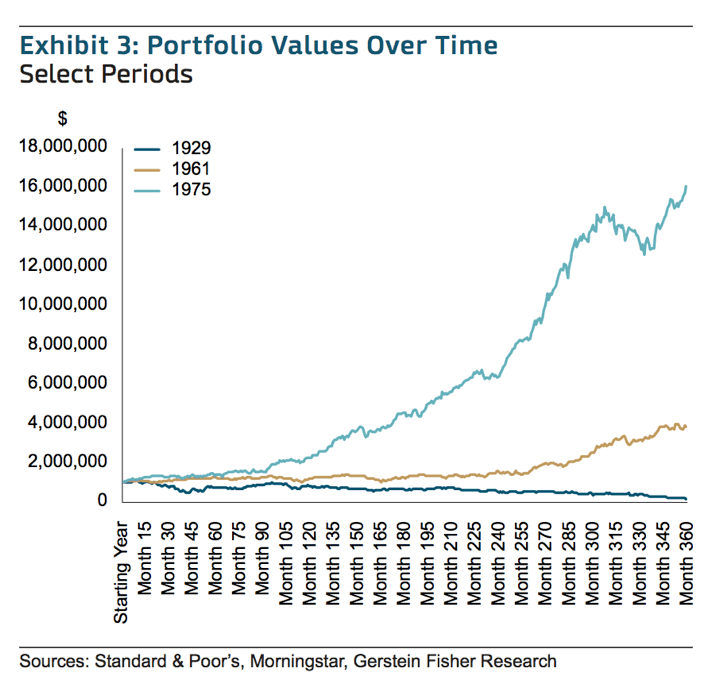 In Exhibit 3, we can see the vast difference a starting year can make, comparing the portfolio values over time of a portfolio where we assume a 4% withdrawal rate and 3% annual inflation but begin in three very different periods. In the worst case, retirement begins in 1929, on the eve of the Great Depression; in 1961, retirement begins in an "average" period with moderate market returns; and in 1975, we have a 30-year period of exceptionally good returns overall, fueled by falling interest rates and by missing the 2008-2009 Global Financial Crisis.
These may be extremes, but they are extremes that happened to real people and could certain happen again.
A difference of 1% withdrawal rate can be huge over a 30 year retirement. Here's the difference between a 3% initial withdrawal rate (then adjusted upwards with inflation) and a 4% initial withdrawal rate (then adjusted upwards with inflation) during a period that contained high inflation (1965-1995). Starting out at withdrawing $30,000 a year on a $1,000,000 portfolio would have been just fine, but withdrawing $40,000 a year would have been disastrous.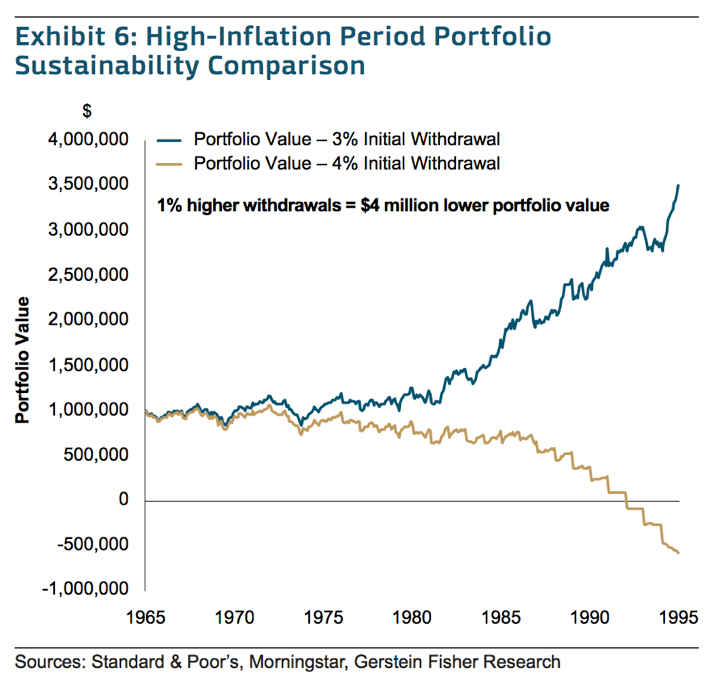 To examine what a "worst case scenario" regarding inflation might look like, we examine one of the highest inflation periods in modern US history – a retirement starting in 1966 and ending in 1995, which experienced multiple years of double-digit inflation in the mid- to late-1970s. Even a 4% initial withdrawal rate isn't sustainable given the rapid increase in inflation (the portfolio is expected to meet an annual withdrawal of nearly $200,000 by the end of the 30-year period), exhausting the portfolio in roughly 25 years.
Here's the 1965-1995 period highlighted from the historical inflation chart. I noticed that the inflation wasn't sky-high the entire time, but it was elevated over a long-enough period.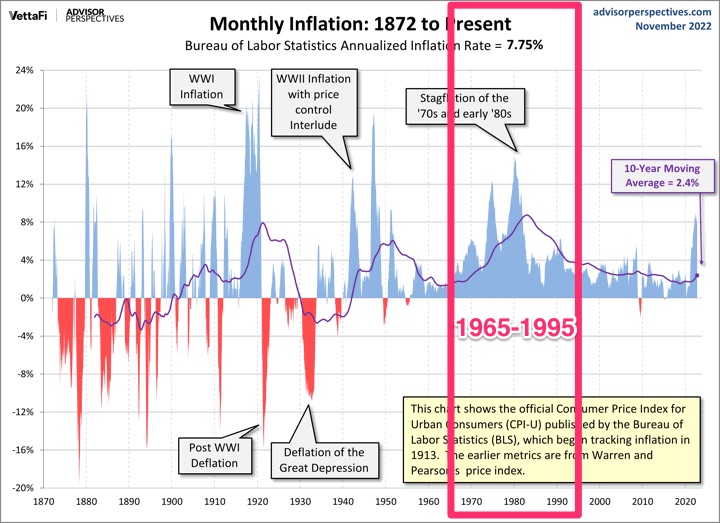 The main takeaway from the paper was that the 4% rule does work most of the time, but watch out for periods of high inflation. Don't blindly take out 4% a year when inflation is high and your portfolio performance is low. The 4% rule may be something like 95% effective historically, but being flexible with your withdrawals will prevent complete disaster even if you are in the bad luck 5%.