Alex Tabarrok of Marginal Revolution writes that College Has Been Oversold:
Education is the key to the future: You've heard it a million times, and it's not wrong. Educated people have higher wages and lower unemployment rates, and better educated countries grow faster and innovate more than other countries. But going to college is not enough. You also have to study the right subjects. And American students are not studying the fields with the greatest economic potential.
He shares the chart below comparing the number of graduates in various fields in 1984 vs 2009. Amazingly, compared with 25 years ago, there has been no increase in the number of students graduating in science, engineering, and math. Meanwhile, the number of students graduating in visual and performing arts, psychology, and communication and journalism has doubled.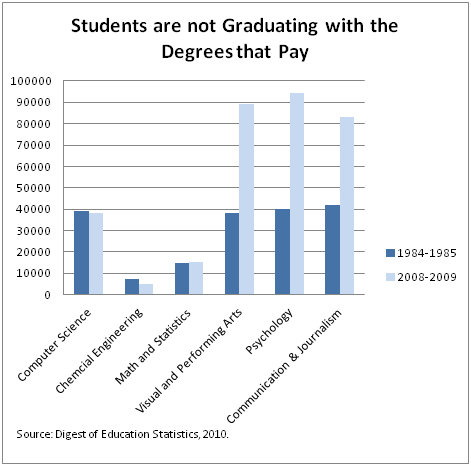 This is a touchy subject. Just because you have a humanities degree does not mean you won't find a meaningful career or financial security. The problem is the upfront price tag: can you really justify spending $100,000+ without a clear path to earning that money back?
From a supply and demand standpoint, the chart may help explain why college graduates are having a hard time finding jobs. For example over the last 25 years, I doubt the demand for psychology majors has doubled, and I really doubt the demand for engineering majors has stayed constant.