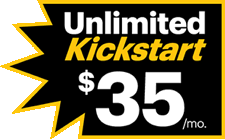 Sprint has an Unlimited Kickstart plan with unlimited talk/text/data for $35 per month, per line. No annual contracts. You can bring over your own compatible phone, or buy one from them. Online orders only. New customers only. Requires port-in of your existing number.
Pros of Kickstart Unlimited:
Unlimited talk, text, and data for $35 a month, per line.
You can bring over any compatible phone, or buy one from Sprint. Use their phone IMEI/MEID checker.
You can come over from ANY outside provider, Verizon/AT&T/T-Mobile or even another cheap MVNO.
No expiration date. Price will not go up after a year.
No annual contracts.
No family plan or minimum number of lines required.
Cons of Kickstart Unlimited:
New customers only.
Online orders only. You won't see this offer in stores.
No mobile hotspot.
Unlimited video in standard definition. Video streams up to 480p, music up to 500 Kbps, gaming up to 2 Mbps.
Data deprioritization during congestion.
Autopay required.
Sprint Unlimited Kickstart is best for those that want to lock in unlimited data direct from a major provider at a low $35/month price. Verizon, AT&T, and T-Mobile Unlimited may have slightly better networks but they are also significantly more expensive.
I am not a huge data user, but it was still nice when I was on Sprint Unlimited. I could stream videos without worry and switched all my settings to "use cellular data whenever the heck you want!" instead of having to wait to sync or download things like podcasts over WiFi. There is also (slightly) better customer service at a major provider as compared to an MVNO. However, I would also consider the these MVNO alternatives as they can offer some significant savings.
Mint Mobile is another low-cost competitor with data caps. This is what I use. They are an MVNO that runs on the T-Mobile GSM network. You can get:
(Disclosure: I am a Mint affiliate and if you purchase a Mint plan through one of the links above, I may earn a commission. I am also a paying Mint customer. Thanks for supporting this individually-owned site.)
The thing about Mint Mobile is that you have to "buy in bulk". Initially you have to buy at least 3 months upfront, and then after that you have to buy 12 months at a time to get their lowest price. After your LTE data runs out, you still get data included at slower 2G data speeds until your month resets. They do offer a 7-Day Money Back Guarantee (starts upon SIM activation) so you can test them out before making any commitment.