I was looking through some old posts looking for writing inspiration, when I found this one that I had completely forgotten about:
S&P 500 at 750: Thoughts From A Market Timer – Published 11/21/2008
I still remember that night rather vividly. I was on a business trip in yet another bland hotel, stuck watching CNN. The S&P 500 index had closed at 752.44, a number I though I'd never see. I logged into my Vanguard account from my laptop and watched my account values dropping, but I also sensed an opportunity. Investing gurus were always saying to buy when people were most scared. This Hussman fellow made a convincing argument that the odds were in my favor. I actually had another draft of that post with the alternate title "S&P 500 at 750: Time to Back the Truck Up?" I tentatively put in a buy/sell order to move all my money into stocks.
But I didn't execute it. Why? I was scared. And if you read the comments on that 2008 post above, lots of other people were scared too. And it did get worse for a while. I managed not to sell everything in a panic. In fact, I didn't sell any stocks at all. I just kept with my asset allocation and rebalanced, which meant that all my new paycheck money went into stocks. Here's the chart of the S&P 500 since I graduated college: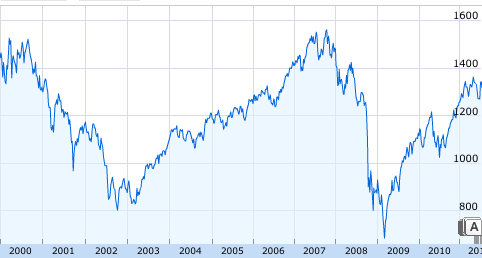 Not exactly a smooth ride! Today, my portfolio is bigger than ever, but I still feel the some uncomfortableness investing with the S&P 500 at 1300. Is it too high now?
Buy, hold, rebalance. This method will always have its doubters, but I believe in it more strongly as the years have passed. This means that I'll never be able to brag on the internet how I was "100% cash right before the crash" or "Moved all my money into stocks right before the big boom". However, I do feel it has improved my investment returns, and that's the real goal.