When I first heard of SmartyPig, it sounded like a pretty cool idea. Give us back the piggy banks we had as kids, but make it virtual and public so that others can help directly with our goal. But a bunch of fees made it expensive and my enthusiasm disappeared. However, the folks at SmartyPig seem to have really listened to feedback, made some changes, and now I think it is deserving of another look. I opened an account to check things out. So, how is service different from a traditional bank?
Multiple Accounts For Specific Goals
With SmartyPig, you can create as many separate accounts as you want for different goals. Tuition for your kid, a Wii, engagement ring, whatever. Why not, they are all free. Yes, you could simply use one big savings account and a notepad for all of this, but if this convenience helps you visualize your goal better then what's wrong with that? I use mental accounting like this all the time.
You Must Setup Automatic Contributions
No broken resolutions here. You must set up regular contributions of at least $25 per month from an external bank account. You also must add a $25 contribution to start, and your goal must be at least $250. Here is a screenshot of setting up a goal: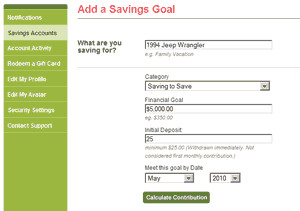 Friends and family can help contribute to your goal. You have the option of making your goal public. Grandma can then send over some money for little Jane's tuition via credit card, but will be charged a 2.9% processing fee. SmartyPig accountholders can send each other money for free using their bank accounts. (It used to be a $5 fee for each external contribution, but that was dropped.) Now the question is, will Ms. Manners think it's polite to hint at some Smartypig cash gifts?
Upon goal achievement, you can redeem for gift cards with "up to" a 5% bonus. So if your goal was $500 for electronics, you might get up to a $525 gift card to Best Buy (see update below). You could also settle for a pre-loaded Mastercard for $500. However, these "boost" percentages are not revealed ahead of time. I even called customer service, and they still wouldn't tell me as they said they can change in the future. I would prefer more transparency, but for now I'll just assume I'll be withdrawing cash. If there is appropriate gift card upon my goal completion, then it'll be gravy.
Update: Reader Tom shares the current gift card boost percentages. Best Buy is actually only 0.75%… but 2% for Amazon.com doesn't look bad.
Doesn't it cost money to take out cash?
Up until recently, they did charge $25 to withdraw via a check, which was a big bummer. It basically promoted "spending" on consumer goods and eliminated potential goals like an emergency fund or tuition at many universities. But as of now the check-request fee is gone, and you will soon be able to simply withdraw your money directly back into your funding account for free. I'm glad to see this.
Summary
With the elimination of these fees, SmartyPig might finally rival my current piggy bank setup with Capital One 360. They are paying 0.75% APY right now. Unless your goal is huge, it probably won't make much difference, but it's something. Anyone want to contribute to my "Used Jeep Wrangler" fund? 🙂